November 5, 2012
United Way campaign offering more ways to get involved
Submitted by Communications and Marketing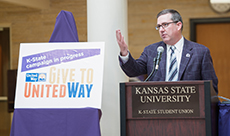 Giving to United Way is an annual tradition for many K-Staters, but this year's campus campaign offers even more ways for supporters to get involved.
"This is the first year we are offering the opportunity to make pledges online by credit card or payroll deduction," said K-State United Way Committee Chair Emily Lehning. "We feel this will offer the ultimate convenience for donors while lending even more support for the wonderful nonprofit service agencies helping our community."
At the campaign kickoff last week in the K-State Student Union, the public got a firsthand look at those service agencies. Against the backdrop of live music from the K-State Jazz Band, agency representatives staffed informational booths to showcase their offerings.
"Were it not for United Way funding, I don't think we would have survived five years," said Judy Davis, director of the Crisis Center, which serves a five-county region. "The range of programs that are supported by United Way is significant, and they matter a great deal to us and our clients."
The annual United Way campaign has a rich history on campus, even producing a student movement that coordinates events like the Give it Up for Good communitywide yard sale fundraiser each spring.
"I wanted to do something that would benefit the community," said K-State Student United Way President Makenzie Kirkhart, a senior in marketing. "I'm from a small town and everything was involved with the community, so coming to K-State and having a campus-centered lifestyle was new for me. I kind of wanted to branch out beyond the campus."
K-Staters wanting to support the local community through the campus United Way campaign can learn more at k-state.edu/unitedway or on Twitter @kstateunitedway.
The campaign runs through Dec. 7.