November 5, 2012
Burden's second book released this year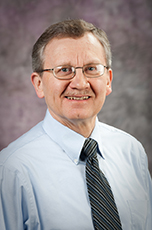 Paul Burden, professor and assistant dean for operations in the College of Education, had two books published this year. The most recent is "Classroom Management: Creating a Successful K-12 Learning Community."
Publisher John Wiley & Sons released the book, now in its fifth edition, in October. It was first published in 1995.
Burden said current research had a significant influence on the new chapters and sections.
"From research and best practice, we recognize that teachers need to know and adjust to their students when establishing classroom management and discipline procedures that work," he said.
Titles of the new sections include:
"Building caring relationships"
"Communicating caring and support"
"Creating an anti-bias educational environment"
"Bullying"
"Working with colleagues"
"Collaboration skills and dispositions"
"Knowing your diverse students"
"Discipline interventions"
"Inappropriate uses of electronic devices"
"Working with struggling learners"
"This new edition places more emphasis on all of these issues in an effort to provide better preparation for prospective teachers," Burden said. "Teachers need to provide an appropriate degree of structure and direction while establishing a positive, caring relationship with their students."
In February, Pearson released Burden's book "Methods for Effective Teaching."