October 31, 2012
A passion for purple: New student ambassadors ready to represent university, students
Submitted by Communications and Marketing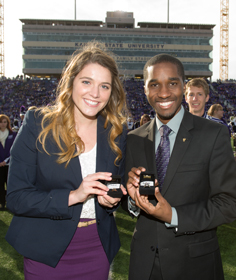 A student from Manhattan and a student from Parsons will serve as Kansas State University's 2013 Student Ambassadors.
Jordan Priddle, junior in family studies and human services, Manhattan, and Tyler Johnson, junior in marketing and human resource management, Parsons, were announced as the newest ambassadors at halftime of the university's homecoming football game against Texas Tech University on Oct. 27.
Established by the K-State Alumni Association in 1977, the student ambassador program elects one male and one female student each year to represent the student body at events throughout the state and at university activities.
From a group of six semifinalists, Johnson and Priddle were elected by a student vote during Homecoming Week. The ambassadors serve a one-year term, and each receives a $1,500 scholarship, clothing from Borck Bros. in Manhattan and an official K-State ring from the alumni association.
As part of their duties, Johnson and Priddle will visit with prospective students and alumni; attend Student Alumni Board meetings and activities; assist with class reunions, the All-University Homecoming Committee and other special events; and assist the president's office as needed.
"I'm incredibly excited about being named as the new male Student Ambassador for K-State," Johnson said. "It's an honor to know that the students want me to represent them, and I'm looking forward to working alongside Jordan Priddle this year."
"I am so blessed by all of the support I had and now the opportunity to portray Kansas State to alumni and prospective students. I am looking forward to connecting people to something I am so passionate about," Priddle said.
Typically, ambassador candidates excel academically and are extensively involved in volunteer and philanthropic activities. Johnson and Priddle are no exception.
Priddle is president of Alpha Xi Delta sorority. She is a College of Human Ecology Ambassador and a member of the Undergraduate Grievance Board, Order of Omega and student mobilization student leader team. She is the recipient of the Foundation Scholarship, Hoeflin Home Economics Scholarship and Brill Scholarship. She is active in Autism Speaks fundraising and Court Appointed Special Advocates. A 2010 graduate of Manhattan High School, Priddle is the daughter of Steven and Angela Priddle, Manhattan.
Johnson is a member of Delta Upsilon fraternity, where he has served as vice president of recruitment and vice president of alumni relations. He is also the vice president of membership for the university's Student Alumni Board and a member of the Multicultural Business Student Association. Johnson is a recipient of the Kassebaum Scholarship, Foundation Scholarship, Koch Project IMPACT Scholarship and the Robert Lewis Leadership Scholarship. He is active in intramurals and has a first-degree black belt in taekwondo. A 2010 graduate of Parsons Senior High School, Johnson is the son of Kelvin and Crystal Johnson, Parsons.
"Tyler and Jordan will be great additions to the alumni association's student ambassador program," said Gavin Hargrave, associate director of alumni programs and adviser to the ambassadors. "I believe they will be outstanding representatives of the K-State student body in the upcoming year."