October 31, 2012
Wesch publishes book about humans in the digital age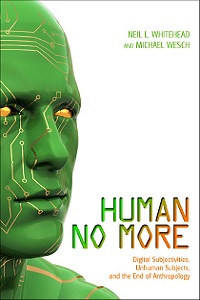 Michael Wesch, associate professor of cultural anthropology, published "Human No More: Digital Subjectivities, Unhuman Subjects and The End of Anthropology," co-edited with Neil Whitehead, professor and department head of anthropology at the University of Wisconsin - Madison.
Turning an anthropological eye toward cyberspace, "Human No More" explores how conditions of the online world shape identity, place, culture and death within virtual communities.
Online worlds have recently thrown into question the traditional anthropological conception of place-based ethnography. They break definitions, blur distinctions and force us to rethink the notion of the subject. "Human No More" asks how digital cultures can be integrated and how the ethnography of both the unhuman and the digital could lead to possible reconfiguring the notion of the human.
This provocative and groundbreaking work challenges fundamental assumptions about the entire field of anthropology. Cross-disciplinary research from well-respected contributors makes this volume vital to the understanding of contemporary human interaction. It will be of interest not only to anthropologists but also to students and scholars of media, communication, popular culture, identity and technology.