October 3, 2019
Oct. 9 seminar by USDA deputy undersecretary for food safety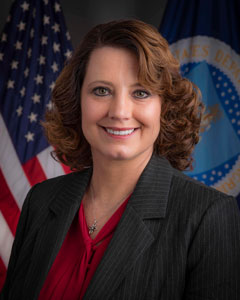 Understanding how the U.S. Department of Agriculture uses scientific research to establish food safety policies will be the focus of a seminar by Mindy Brashears, USDA deputy undersecretary for food safety, at 4 p.m. Oct. 9 in 114 Leadership Studies Building.
Brashears has served in her post since Jan. 29. In this role, she leads the Food Safety and Inspection Service in its mission of protecting the public's health through the implementation of three strategic goals: prevent food-borne Illness and protect public health; modernize inspection systems, policies and the use of scientific approaches; and achieve operational excellence.
Previously, Brashears was a professor of food safety and public health, as well as director of the International Center for Food Industry Excellence, at Texas Tech University. Her work evaluated interventions in preharvest and postharvest environments and on the emergence of antimicrobial drug resistance in animal feeding systems. Brashears also led international research teams of students and faculty to Mexico, Central and South America to improve food safety and security in these sectors and to set up sustainable agriculture systems in impoverished areas. She has an extensive publication record in peer-reviewed journals and has been invited to speak at national and international events on the topics of her research to give keynote addresses. Her research has resulted in more than 20 patents/patents pending for her innovative approach to improving food safety in the food supply.
The seminar is open to the public and all are welcome to attend.