September 26, 2019
Food science doctoral student presents at international conference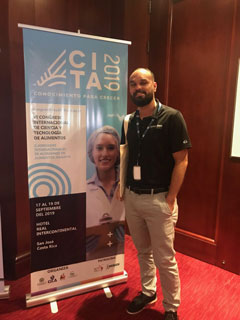 Daniel Vega, doctoral candidate in food science, attended the VI Congreso Internacional de Ciencia y Tecnología de Alimentos, known as CITA 2019, Sept. 17-19 in San José, Costa Rica. Vega presented a poster on his research to control important foodborne pathogens in various bakery products.
This research is a component of a multiyear, multi-institution effort to assess the antimicrobial lethality of commercial oven baking and/or frying operations to eliminate Salmonella, Shiga toxin-producing E. coli and Listeria monocytogenes that may occur due to natural contamination of raw ingredients, primarily raw flour. Data from these studies are then used to develop predictive modeling tools that can be used by the food industry to verify the capabilities of their individual manufacturing processes to produce safe, ready-to-eat consumer bakery products.
At the conference, Vega presented findings from studies to assess the baking lethality associated with peanut butter cereal bars, one of approximately 10 products investigated to date by the K-State Food Safety Lab, led by Randall Phebus, professor of food safety in the Food Science Institute. This on-going research is sponsored by AIB International in Manhattan, in conjunction with the American Bakers Association.
A travel grant to attend the international conference was provided by the Graduate School.