June 24, 2019
July 15 event features Nancy and Jerry Jaax, real-life subjects of National Geographic's THE HOT ZONE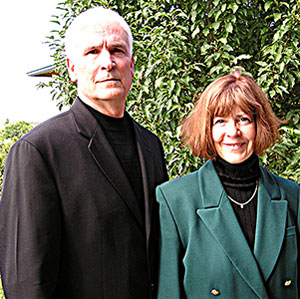 Kansas State University and Johnson County Community College are hosting an evening with Nancy and Jerry Jaax, two Kansas State University veterinarians and leaders whose response to an Ebola-related outbreak inspired the recently released National Geographic series, THE HOT ZONE.
The event, "THE HOT ZONE: An evening with Nancy and Jerry Jaax," will be Monday, July 15, at the Nerman Museum's Hudson Auditorium at Johnson County Community College in Overland Park. The event is free and open to the public, but registration is required.
The presentation begins at 4 p.m. and will include clips from THE HOT ZONE and a discussion with Nancy and Jerry Jaax. Kansas State University President Richard Myers will serve as moderator. A networking event with light refreshments will follow around 5:30 p.m.
National Geographic's six-part limited series THE HOT ZONE is based on Richard Preston's 1994 bestselling novel by the same name. Julianna Margulies plays Lt. Col. Nancy Jaax and Noah Emmerich plays Lt. Col. Jerry Jaax.
THE HOT ZONE is inspired by the true story of the arrival of Ebola on U.S. soil in 1989 in Reston, Virginia. The story involves Nancy and Jerry Jaax. Both graduated with veterinary medicine degrees from Kansas State University and served in medical defense with the U.S. Army, during which time they became involved in the events depicted in the series.
Following the events of 1989 and after stellar military careers, Jerry and Nancy returned to Manhattan and Kansas State University. Jerry served in a prominent research leadership position to further the university's biodefense mission. Nancy participated in innumerable infectious disease initiatives at the university.
Learn more about the July event and register to attend at k-state.edu/hotzone.