June 24, 2019
Startup School course provides guidance for students with entrepreneurial ambitions
Submitted by Brent Fritzemeier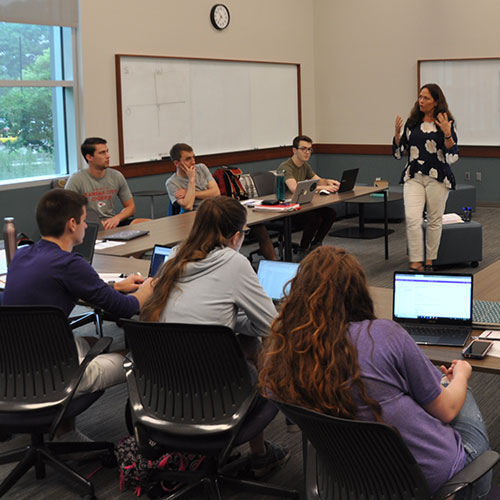 Thirteen students recently received a three-week crash course in how to grow their business from the ground up through the Center for the Advancement of Entrepreneurship's new Startup School intersession course.
Startup School sought applications from students with an early-stage business, or who wanted to explore a new business idea. The course provided the selected students with much-needed resources, including faculty-led workshops and access to the university's world-class alumni mentor network. In addition, participants whose businesses were related to the global food industry received scholarships through the K-State Global Food Systems Accelerator program.
"Startup School was designed to help inspire and support our student entrepreneurs as they work to develop an entrepreneurial mindset and create new businesses," said Chad Jackson, director of the Center for the Advancement of Entrepreneurship.
The Startup School curriculum teaches entrepreneurs how to analyze their business model and conduct consumer interviews to validate assumptions about their model. Mentors, who are made up of successful entrepreneurs from all areas of business throughout the state, provided feedback and advice to the participants as their business models continued to evolve throughout the process.
"Startup School was about so much more than learning how to start a business," said junior in entrepreneurship Kayley Brethour. "We learned how to communicate with people to find a need, get out and talk to people in the community, propose and evaluate possible solutions, and use the tools we've been learning in our classes to make a plan in real life. I have learned how to conduct customer interviews, pitch to mentors, figure out who my core customer is, and take advantage of all the amazing resources in the local community and K-State to refine my business plan even more."
The program concluded on June 7, when the students presented their updated business models on the Kansas State campus, providing insights into what was learned throughout the course of the program.
"Startup school was like working in a co-working space for three weeks," said senior in entrepreneurship Chelsea Werdel. "As a class of just 13 students, we really bonded. We were able to bounce ideas of each other, be each other's critics and cheerleaders, and combine our professional contacts and resources to help move one another forward. I would highly recommend this class to anyone with an interest in starting a business."