June 11, 2019
'Trees, Shrubs, and Woody Vines in Kansas' by K-State Libraries' Haddock available through University Press of Kansas
Submitted by Sarah McGreer Hoyt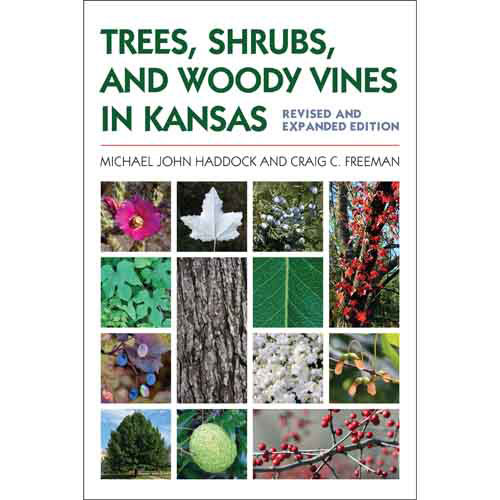 The University Press of Kansas has released "Trees, Shrubs, and Woody Vines in Kansas," co-authored Michael John Haddock, associate dean of the Research, Education and Engagement Division of K-State Libraries.
With Craig C. Freeman, Haddock has identified, described and pictured 166 species of trees, shrubs and woody vines, 138 of them native. Their handbook, an expanded and updated version of a 1969 guide by H.A. Stephens, also includes county-level distribution maps illustrating where species have been documented. Nearly 1,000 color photographs highlight morphological features — habit, bark, leaves, flowers and fruit.
Iralee Barnard, author of "Field Guide to the Common Grasses of Oklahoma, Kansas, and Nebraska," writes, "The authors provide not only updated and detailed descriptions plus excellent color photos but also fascinating plant associations, such as using sand sagebrush as relief for intestinal ailments … . The organization and plant keys make available quick access to information about 166 Kansas species. A first-rate guide to the woody plants of Kansas!"
Haddock and Freeman are the authors, with Janét E. Bare, of "Kansas Wildflowers and Weeds," and Haddock also authored "Wildflowers and Grasses of Kansas: A Field Guide." Both were published by the University Press of Kansas.