June 11, 2019
Hutchinson named associate dean of engineering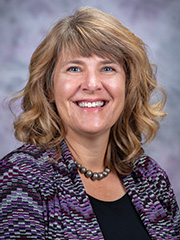 Stacy Hutchinson, professor of biological and agricultural engineering, has been selected as associate dean for research and graduate programs in the Carl R. Ice College of Engineering effective June 16.
Hutchinson received a bachelor's degree in civil engineering from Montana State University and was commissioned as a second lieutenant in the United States Army in 1990. Following graduation, she served as a U.S. Army Corps of Engineers officer from 1991 to 1994 where she received the Army Achievement and Army Commendation Medal for exemplary performance.
She completed both a master's and doctoral degree in civil engineering at Kansas State University in 1996 and 1998, respectively, and was then employed as an environmental engineer for the Ecosystem Research Division of the Environmental Protection Agency in Athens, Georgia.
Hutchinson returned to K-State as an assistant professor in biological and agricultural engineering in 2000, was promoted to associate professor in 2006 and full professor in 2014. During this time, she served as interim director of the Urban Water Institute from 2013-2015; a visiting professor at Ecole d'Ingénieurs Purpan, Toulouse, France in 2009-2010; and a Fulbright specialist at the National Mining University, Dnipro, Ukraine in 2016.
Her research focuses on use of vegetated systems for mitigation of non-point source pollution, development of sustainable stormwater and land management techniques, and remediation of contaminated soil and water. She has received more than $3 million in research funding from sources including the U.S. Environmental Protection Agency, National Science Foundation, U.S. Department of Defense and U.S. Department of Agriculture.
She fills the position of associate dean formerly held by Ronaldo Maghirang, who left K-State in May 2019 to become department head of agricultural and biological engineering at the University of Illinois at Urbana-Champaign.