June 11, 2019
Veterinary student receives American Kennel Club scholarship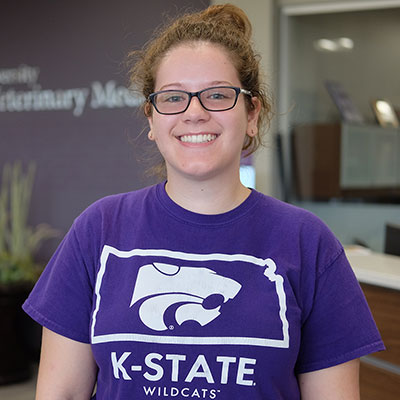 Emily Eppler, second-year veterinary student, Manhattan, was one of 15 students nationwide recently chosen for an American Kennel Club scholarship.
The American Kennel Club, or AKC, which is the world's largest purebred dog registry and advocate for all dogs, makes an annual commitment to students pursuing their education in veterinary studies through the AKC Veterinary Outreach Scholarship program.
This scholarship is designed to support individuals with a background of participation in AKC events and programs, who seek to promote animal health and medicine. A total of $35,000 in scholarship money was awarded.
"I am blessed and honored to be awarded the AKC Veterinary Outreach Scholarship," Eppler said. "These funds will help support my academic goals of becoming a veterinary orthopedic surgeon as I head into my second year of veterinary curriculum at K-State. As the AKC Student Ambassador at K-State, I look forward to exploring the opportunities available with this new relationship between the AKC and K-State."
"The recipients of this scholarship are truly dedicated to the world of purebred dogs and the health and well-being of animals," said Mari-Beth O'Neill, vice president of sport services. "They have worked hard to balance their demanding school schedules with participation in AKC events. We are very proud of them and look forward to seeing their impact on the future of veterinary medicine."