June 3, 2019
Save the date: Adobe Digital Literacy Day to be part of Science Communication Week in October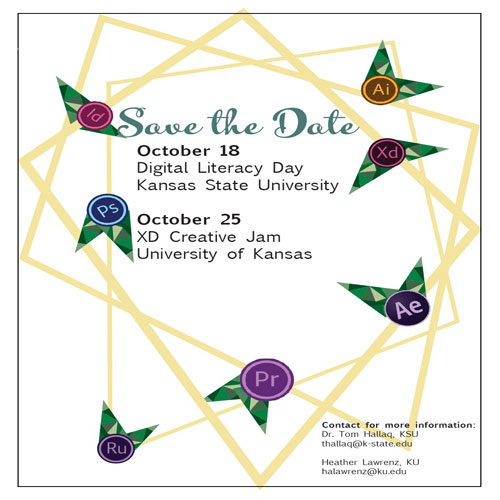 The second Adobe Digital Literacy Day in Kansas will take place on Friday, Oct. 18, at Kansas State University as part of Science Communication Week.
Come see how educators across the state of Kansas — and the country — are using Adobe software as a visual communication tool and for an engaging multimodal learning experience in class. Student digital assets will be showcased along with some app workshops.
While registration is free, attendees will need to register to ensure adequate space and meals — lunch will be provided by Adobe. A registration page is coming soon. For now, please mark your calendar and save the date.
An Adobe XD (Experience Design) Creative Jam also is scheduled on Friday, Oct. 25, at the University of Kansas. Come learn how to design and create a prototype user experience for mobile and desktop apps. XD requires no software coding knowledge and has a relatively flat learning curve. Come see why this app will enhance your classroom experience and enrich student resumes.
Both of these events are open to faculty, staff and students at Kansas Board of Regents schools.
For more information, contact Tom Hallaq, associate professor in the A.Q. Miller School of Journalism and Mass Communications, at thallaq@k-state.edu.