March 22, 2019
Retirement reception honoring Richard Ott and Peter Mudrack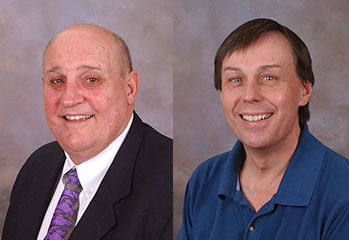 The College of Business Administration will host a retirement reception honoring Richard Ott, professor of accounting, and Peter Mudrack, associate professor of management, from 3-4 p.m. Thursday, March 28, in 4061 Business Building, the executive conference room.
Ott is retiring after 33 years of service to the college. He served as head of the accounting department from 2002 to 2012. He led the successful 2008 AACSB Continuing Improvement Review for both the graduate and undergraduate accounting programs.
Mudrack has served the college for 20 years in the management department. Mudrack has taught a broad range of courses focused on general business, government and society, and organizational behavior.
Cards and letters of congratulations may be sent to Melanie Horton, mhorton@k-state.edu, Office of the Dean, 1301 Lovers Lane, Suite 2019, Manhattan, Kansas, 66506.