February 15, 2019
Vibhavari Jani selected to receive International Interior Design Association Foundation Diversity Award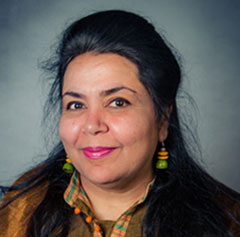 Vibhavari Jani, associate professor in the College of Architecture, Planning & Design's interior architecture & product design department, has been selected for the 2018 International Interior Design Association, or IIDA Foundation Diversity Award.
The award recognizes and celebrates an educator who is a representative of a diverse background and is making a significant contribution to interior design education today, has made contributions to the teaching profession for advancing the practice of interior design, and is actively advancing diversity in the interior design industry.
Jani will receive the award at the Interior Design Educators Council's annual conference March 8 in Charlotte, North Carolina. She will receive $5,000 as part of this honor.
"Vibha's work stretches far beyond the classroom; her focus on equity and inclusion is reflected in everything she does, and we are proud to honor her with this award," said Cheryl Durst, executive vice president and CEO of IIDA. "Jani brings her 24 years of architecture and interior design practice experience to her curriculum and regularly incorporates project work where students, design practitioners, and the community collaborate for the greater good. In addition to writing the award-winning book 'Diversity in Design: Perspectives from the Non-Western World,' Jani has developed design courses, workshops, seminars, exhibitions, and published more than 50 research papers to highlight the importance of cultural diversity, equity, and social justice in the interior design industry."
Jani is a Liberock universal design scholar, and was awarded the Rotary Peace Fellowship in 2013, Kansas Campus Compact Engaged Faculty Fellowship, Big 12 Faculty Fellowship in 2012 and Tilford Fellowship in 2011. She has received more than $200,000 in grant funding for her research and creative projects and has won many awards for her research including a gold medal for her architecture research work, Distinguish Alumni Award, and best thesis award, among many other honors.
Jani has also mentored secondary and elementary level students from the most diverse and multicultural urban school district in Detroit, South Carolina, and currently works with Kansas City Public Schools to provide an example of a successful career path for a person of color.
She is a registered architect in India, holds NCIDQ certification for interior design in the U.S., a licensed interior designer in Louisiana and registered interior designer in Michigan. In more than 26 years of practice in India, the U.S. and Canada, she has served the architecture, interior design, facilities management and construction industries in an executive and an administrative capacity. Her work represents large — $100 million — projects for major corporations, health care and educational institutions, government, and hospitality clients.
Jani's book of paintings, "Creation," based on the Vedanta philosophy of India, was published in 2000. She also illustrated "Baal Vikas Yatra" — "Baby's Growth Book" — which was published in 1999. Her book of poetry, "Sumbandh Naam Nu Ek Phool," was published in 1999. Jani's essays, articles and poetry have been published in India, the United Kingdom and the United States. She designs research-based educational exhibitions that promote diverse perspectives in art, architecture, culture and sustainability. Her photographs, paintings and exhibitions have been shown in India, the United States, Italy, Spain and Saudi Arabia.
"This award signifies the growing need for supporting research and developing academic programs so that we all can see ourselves represented in academia, and profession, regardless of our color, religion, race, or other aspects of our lives," Jani said. "I am incredibly honored to receive this award, and accept it on behalf of my students, and my colleagues, and thank the IIDA Foundation and the award committee for this honor."