February 1, 2019
Human Capital Services' Talent Solution team members earn certification
Submitted by Human Capital Services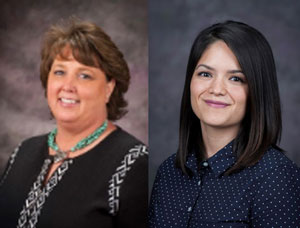 Human Capital Services' Connie Pfaff-Eickhoff, applicant tracking system administrator and supervisor, and Rebecca Laessig, talent acquisition strategic partner and back-up administrator, recently earned their PageUp Super User certifications.
The certification is focused on individuals who are responsible for administering the PageUp applicant tracking system. By completing the certification, Pfaff-Eickhoff and Laessig have demonstrated their commitment to enhancing the end-user experience for hiring managers, search committee members, HCS liaisons and candidates.
Since 2015 when Pfaff-Eickhoff joined HCS, she has had a key role in transitioning the university from paper to electronic recruitment process. Additionally, she has lead the charge to define and implement a universitywide electronic onboarding process focused on an inclusive and exceptional new hire experience. Since 2016 when Laessig joined the team, she has been instrumental in providing support, ensuring recruitment process consistency for university end-users and developing reports for hiring managers and search committees.
In October 2018, Pfaff-Eickhoff and Laessig were invited to present their work with effective onboarding, reports, and end-user training at the annual PageUp Community Summit with other PageUp super users and HR leaders for other higher education institutions across the country.
Pfaff-Eickhoff earned her Korn Ferry Leadership Architect certification, demonstrating her commitment to the field. She serves as a member of the Kansas Chapter of College and University Professional Association for Human Resources, or CUPA-HR, and is a member of the planning committee for the state conference. She is an alumna of colleges of Agriculture and Business Administration.
Laessig is an AIRS-certified diversity and inclusion recruiter, demonstrating her commitment to the field. She earned her bachelor's degree from the College of Business Administration and is pursuing her Master of Business Administration at Kansas State University.