January 29, 2019
Chinese Spring Festival Gala in the Year of the Pig is coming Jan. 31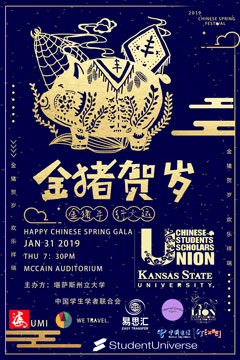 The Chinese Students and Scholars Union will host the 2019 Kansas State University Chinese Spring Festival Gala at 7:30 p.m. Thursday, Jan. 31, in McCain Auditorium. Check-in time starts at 6:30 p.m.
Bring your K-State ID in advance to the McCain box office for free tickets.
The event will include a variety of singing and ethnic dance performances, songs skewer and a band, Chinese traditional culture and instrument show. It is going to be a night full of fun and diversity.
The Chinese Spring Festival Gala always features three prize drawings during the whole show. This year will include 33 prizes, seven second prizes and one first prize. The third prizes are some souvenirs of the Palace Museum, the second prizes are three HD televisions, two Dyson vacuum cleaners and two unmanned aerial vehicles, and the first prize is a connecting flight ticket for $1,200.
To be eligible for prizes, each person will receive a wristband before 7:30 p.m., so arrive early. Each wristband has a unique series of numbers on it, which is for drawing purposes, so keep the wristband with you during the gala.