January 17, 2019
Martin Luther King Jr. Observance Week activities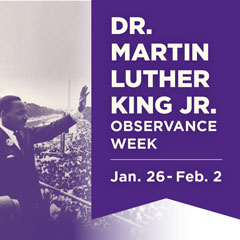 Dear K-State Family:
I hope you are well rested coming off the holiday break and ready for an exciting spring semester!
We are thrilled to introduce a great Martin Luther King Jr. Observance Week of activity and celebration. We are incredibly grateful to the many dedicated individuals who have come together to create a wonderful arrangement of events.
The week's activities include:
Saturday, Jan. 26
Our celebration will begin with the Leadership Studies Day of Service. The event will take place from 9 a.m. to noon beginning at the Leadership Studies Building. Volunteers can contact Kaitlin Long at kaitlinl@k-state.edu to sign up or to receive more information.
Monday, Jan. 28
The College of Agriculture diversity programs office will host a lecture by James P. Jackson titled "Witnessing the Dream" at 5:30 p.m. in 137 Waters Hall. There will be time for a Q&A session and light refreshments. Co-sponsor representative Alicia Luarks of Ardent Mills will also give remarks.
Tuesday, Jan. 29
A lecture sponsored by the College of Business Administration by Derrick L. Nelson, corporate inclusion and diversity manager of Commerce Bank titled, "Why Must I Embrace the Power of Inclusive Leadership" will take place from 1-2 p.m. in 1088 College of Business Building.
At 3:30 p.m., the Commerce Bank Presidential Awards Reception will take place at the K-State Alumni Center. We encourage the entire campus community to attend this reception and congratulate our award winners who have done so much to advance K-State diversity, contribute to the success of historically underrepresented students, and promote inclusive excellence. We are grateful to Shawn Drew and Commerce Bank for their support of these awards through the years.
At 5:30 p.m., a session on "Professional Development for Student Leaders," sponsored by the College of Agriculture, will take place in Weber Arena. This is an opportunity for students to explore involvement in agriculture student organizations.
Wednesday, Jan. 30
The College of Arts and Sciences will host its fifth annual Teach-In from noon to 3 p.m. in Forum Hall at the K-State Student Union. Faculty members will speak on social justice issues related to diversity, equity and inclusion.
The Alpha Phi Alpha Fraternity, Inc. will host its annual MLK Lecture and Candlelight Vigil. The lecture will begin at 7 p.m. in Forum Hall at the K-State Student Union. K-State alumnus Tre Walker will lead the lecture.
Thursday, Jan. 31
The MLK Luncheon will take place from 11:30 a.m. to 1:30 p.m. in the K-State Alumni Center Ballroom. This year's program will feature speaker Chris Jones, corporate vice president and president of Northrop Grumman Technical Services. His keynote speech is titled, "Getting to the Heart of Authentic Leadership." Luncheon attendees are encouraged to make their reservations by filling out and submitting the online reservation form. Tickets are $15 each.
Friday, Feb. 1
The K-State faculty/staff Affinity Groups will have their annual Brown-bag Discussion from noon to 1 p.m. in 227 K-State Student Union. The groups will discuss contemporary social justice issues and how they can work better together to advance social justice on our campus.
The week's observance will conclude with the Laying of the Wreaths Ceremony at 2 p.m. at the MLK bust in front of Ahearn Field House. The procession will begin at the K-State Student Union welcome desk and end at the MLK bust. We are grateful to the Office of the President, Office of General Counsel, K-State Athletics, K-State Alumni Association, Office of the Provost, Office of the Vice President for Student Life, Diversity and Multicultural Student Affairs, Alpha Kappa Alpha, Inc., and the College of Veterinary Medicine for providing wreaths. The Laying of the Wreaths Ceremony gives us a moment to pause at the end of an eventful week to reflect and recommit to the mission of Martin Luther King Jr.
It is our hope that you will be able to join us for as many of these events as possible as we come together to celebrate the legacy and influence of Dr. Martin Luther King Jr.
A special thank you to the MLK Observance Week committees, Diversity and Multicultural Student Affairs, the Division of Student Life, the Office of the President, the various colleges and student organizations, and advocates for social change across our university who have contributed to this great celebration.
May we all come together to honor each other and to continue our great work toward equity and justice. As Dr. Martin Luther King Jr. said, "The function of education is to teach one to think intensively and to think critically. Intelligence plus character — that is the goal of true education."
Much appreciation,
Adrian Rodriguez
Associate Vice President for Student Life
Diversity and Multicultural Student Affairs