January 17, 2019
Tickets on sale now for the Spring 2019 Hale Library Concert Series
Submitted by Sarah McGreer Hoyt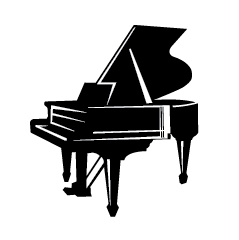 Will the Hale Concert Series continue this year in spite of the fire?
Absolutely! Tickets are on sale now.
Slawomir Dobrzanski and Agustin Muriago will perform a four-hand concert of piano music at 7:30 p.m. on Friday, Feb. 1, at St. Isidore's Catholic Student Center, 711 Denison Ave. The program will include works by composers Debussy, Ravel, Poulenc and Faure. For the finale they will play a bombastic piece by Antoine de Kontski. Refreshments will be served afterward.
We celebrate the 80th birthday anniversary of former K-State composer-in-residence Hanley Jackson with a recital of his solo and chamber music at 7:30 p.m. Friday, April 12. Hanley was an award-winning composer who scored music for many films. The program features several returning K-State music faculty members, including Patricia Thompson, mezzo-soprano, who will perform "Letters to Santa," a whimsical and poignant composition based on texts by Manhattan children. Refreshments will be served afterward.
And finally, at 7:30 p.m. on Friday, May 31, get ready for an evening of jazz with the K-State Faculty Jazztet! We'll be staging a rollicking Jazz in (Almost) June. Refreshments will be served prior to the concert.
We are still in the process of identifying locations for the April 12 and May 31. They will be posted on the Libraries' event page as soon as they've been confirmed.
For more information or to order tickets, contact K-State Libraries' public information officer, Darchelle Martin, at martin05@k-state.edu or 785-532-7442. No hard copy tickets will be issued; your name will be held at the door.
Individual concert tickets are $30, student individual concert tickets are $10, Jazz in June concert tickets are $35 and student individual Jazz in June concert tickets are $10.
The Friends of the K-State Libraries Concert Series is a cultural outreach program featuring the talented faculty, staff and alumni from the School of the Music, Theatre, and Dance. All proceeds go to an endowment fund for the refurbishment and upkeep of the Mason & Hamlin Grand Piano — which survived the Hale Library unscathed! — and to the Concert Series Fund.
The series would not be possible without the generous support of our sponsors. For a full list of sponsors and to learn more, visit the Hale Library Concert Series webpage.