January 14, 2019
Locanthi Dowell appointed to director of Kansas State Council of Society of Human Resource Management
Submitted by Human Capital Services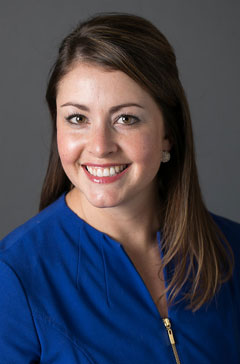 Jenny Locanthi Dowell, manager of Compensation and Organizational Effectiveness in Talent Solutions in Human Capital Services, has been elected to serve as director for the Kansas State Council of the Society for Human Resource Management, or KSSHRM.
The mission of the council is connecting the HR community through leadership, education and advocacy. She will be responsible for driving their mission to lead the advancement of the HR professional and drive positive change at the national, state and local levels.
"I look forward to leading KSSHRM in our efforts to support volunteer leaders and provide valuable programming for our professionals across the state of Kansas," Locanthi Dowell said. "Having been a member and leader in my local SHRM chapter for many years, I am thrilled for the opportunity to make a positive impact in my profession and build relationships with other leaders in Kansas and across the nation."
Locanthi Dowell has 10 years of human resources experience and joined K-State's Talent Solutions team in July 2018. In her time at the university, she has earned her certification in Korn Ferry Leadership Architect and is pursuing credentials as a Certified Compensation Professional. She is also working on several large-scale projects related to compensation administration and the introduction of a competency framework at K-State.
She earned her Society for Human Resources Management-Senior Certified Professional certification from the Society for Human Resource Management, and senior professional in human resources from the Human Resource Certification Institute, demonstrating her commitment to the field and her own continued learning and development. Locanthi Dowell earned her Bachelor of Arts in business administration at the University of Oregon. She was awarded the Kansas HR Professional of Year by the Kansas State Council of the Society for Human Resources Management in 2017.
Founded in 1948, the Society for Human Resource Management is the world's largest HR membership organization devoted to human resource management. Representing more than 275,000 members in more than 160 countries, the society is the leading provider of resources to serve the needs of HR professionals and advance the professional practice of human resource management.