December 10, 2018
Five APDesign students win in 20th anniversary of Bowman Forum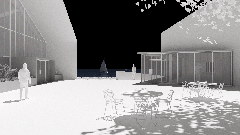 Outstanding design work by five third-year architecture students in Kansas State University's College of Architecture, Planning & Design, or APDesign, earned honors at the 20th annual Bowman Design Forum on Dec. 7 in Regnier Hall on the Manhattan campus.
Sponsored by BBN Architects Inc. in Manhattan and hosted by APDesign, the forum brought acclaimed architects to campus to discuss work by students in the architecture department. The forum is an opportunity for students to present their work to architecture practitioners and educators for critiques.
One student from each of the department's five third-year studio sections was selected to present his or her design for "The Blue Valley Yacht Club." Each student participant prepared a model, drawings and a digital presentation.
The following students were awarded a total of $4,500 in prizes. All are third-year students as part of APDesign's five-year graduate architecture program.
Matthew Ho, Fairway, received the $2,000 Honor Award; and Alexandra Mesias, Lee's Summit, Missouri, received the $1,000 Special Merit. Garrett Scott, Wichita; Dean Randolph, Chesterfield, Missouri; and Lawson Endicott, Loma Linda, Missouri, were all $500 finalists.
This year's guest jurors were Jim Childress, FAIA, and Todd Andrews, AIA, both principals with Centerbrook Architects and Planners. Childress' portfolio encompasses independent schools, colleges and universities, laboratories, churches, museums, houses and corporate interiors. He has worked for the past 30 years at Cold Spring Harbor Laboratory, the world-renowned center for molecular biology research.
A graduate of Rhode Island School of Design, Childress' work has been recognized with 60 design awards including the American Institute of Architects 1998 Architecture Firm Award. He was invested into the College of Fellows of the American Institute of Architects in 2001 and served as the chair of the AIA Committee on Design in 2015.
Andrews earned his Bachelor of Architecture from Syracuse University and has practiced at Centerbrook for 22 years. During that time, he has designed buildings that support and enhance education, learning, research, worship and community. A principal focus has been his work on multiple projects at Cold Spring Harbor Laboratory, including: the Hillside Research Campus, Nicholls Biondi Hall and the Alfred D. Hershey Building.
Andrews' current projects include the expansion of the Hubert Campus Center at Albertus Magnus College, a private residence in Laurel Hollow, New York, and, with Cold Spring Harbor Laboratory, DNA Learning Centers in Brooklyn and Suzhou, China, and the renovation of the Demerec Laboratory. He recently completed a new LEED Platinum STEM building and Center for Community at Mary Institute and St. Louis Country Day School in Missouri, and the addition and renovation of St. John's Church in Cold Spring Harbor.
Andrews is an active member of the National Association of Independent Schools and he has presented at the Summit for Transformative Learning, which explores ways to enhance and maximize student learning. Additional input was given by Austin Massoth and Aaron Dyck, BBN Architects.
The winners' studio instructors include Michael Grogan, assistant professor of architecture for Lawson Endicott; Tucker, instructor of architecture for Ho; Gary Coates, professor of architecture for Mesias; Grant Alford, assistant professor of architecture for Randolph; and Michael McGlynn, associate professor of architecture for Scott.
The annual Bowman Design Forum was introduced by K-State alumnus Brent Bowman to expose third-year architecture students to the field's top professionals. Participants compete through submissions of innovative design for scholarships and are given the opportunity to interact with nationally recognized architects.
This year marks the 20th anniversary of the partnership between BBN Architects and APDesign in hosting the Bowman Design Forum. A special display of work is on exhibit in the Cassias Gallery in Regnier Hall that focuses on work that BBN has accomplished over the past two decades.
Further down the concourse visitors may view the drawings and models of the winning teams from the forum. The exhibit is free and open to the public 8 a.m. to 5 p.m. Monday through Friday.