December 10, 2018
Undergraduates invited to submit work to Live Ideas journal by Jan. 15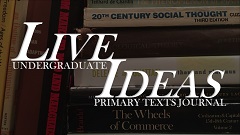 Students are invited to submit their work by Jan. 15, 2019, for it to be potentially included in the inaugural edition of Live Ideas: Undergraduate Primary Texts Journal.
Live Ideas is an open access, peer-reviewed undergraduate journal that is co-produced by students and faculty at Kansas State University and provides an excellent opportunity for undergraduates to get published.
Live Idea's mission is to provide a platform for undergraduates to express their original ideas in creative, unbounded and meaningful ways. In doing so, it accepts a wide range of works, including articles, short stories, poetry, artwork and photo essays.
Live Ideas is sponsored by the K-State primary texts certificate program.