December 4, 2018
Global Supply Chain Club tours Caterpillar manufacturing facility
Submitted by Brent Fritzemeier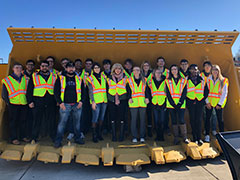 Members of the K-State Global Supply Chain Club recently had the opportunity to visit the Caterpillar manufacturing facility in Wamego for a day of tours and presentations.

The tour allowed the club members to get a firsthand look at the way that Caterpillar applies the theories taught in the students' curriculum as the global leader in the manufacturing of construction and mining equipment.

"It was really interesting to hear their perspectives on things like sales and operation planning, getting forecasts, finding excess capacity and working with suppliers and other facilities," said Dan Minick, instructor of operations and supply chain management and a faculty advisor for the club. "So much of what we saw and discussed was a direct reflection of what we teach on a day-to-day basis."
The day started out with an introduction to Caterpillar's business and Wamego operations, before discussions about the company's supply chain, purchasing and operations management.

"I really liked seeing the way they handle the quality of their products and their warehouse as a whole," said Maria Montorfano Blanco, senior in operations and supply chain management, Asuncion, Paraguay. "They showed us how they build every part of the machinery and how they distribute everything in their warehouse to their customers."

Following the Q&A sessions, the group took a tour to see the plant's operations in full swing. The scale of the machines being built really sunk in when the whole group of students was able to pose for a photo inside one of Caterpillar's more than 43,000-pound shovels.

"Being able to visit Caterpillar's plant gave me a better insight on the working environment I will be in as a future leader," said Kristin Russell, senior in operations and supply chain management and president of the Global Supply Chain Club. "It showed me that nothing can get done without the teamwork of every employee, and Caterpillar does a great job of just that. It was incredible to see all the working parts that make it possible to produce big machinery."