November 7, 2018
Ritterbush elected to Plains Anthropological Society board of directors
Submitted by Department of Sociology, Anthropology, and Social Work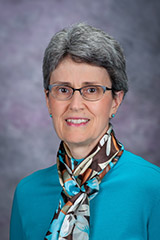 Lauren W. Ritterbush, professor of anthropology/archaeology in the sociology, anthropology, and social work department, has been elected to a three-year term on the board of directors of the Plains Anthropological Society.
Her term started in October 2018 while participating in the 76th annual Plains Anthropological Conference, Oct. 24-27, in San Antonio. Ritterbush has been an active Life Member of the Plains Anthropological Society for the past 40 years. She previously represented Kansas State University on the society's board in 1999-2002.
The Plains Anthropological Society promotes the study of the peoples and cultures of the North American Great Plains. The society supports the growth of knowledge concerning the physical, cultural, archaeological and linguistic variation and evolution of Plains societies. The organization disseminates research results through publication of the Plains Anthropologist, a quarterly, peer-reviewed academic journal and memoir series, and through the exchange of information and ideas at its annual conference. The society actively encourages and recognizes excellence in scholarship, service to the anthropological community and the maintenance of research collections and information.