November 7, 2018
International Education Week starts today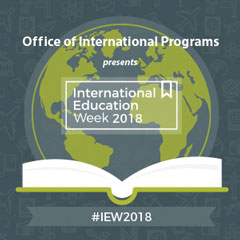 International Education Week occurs each year in November. K-State joins in this joint initiative created by the U.S. Department of State and the U.S. Department of Education to promote programs that prepare students for a global environment. Hundreds of universities across the U.S. plan and implement events that serve to elevate the level of international awareness and diversity of students on our campus.
K-State's International Education Week will take place Nov. 7-15. The following are this week's events:
• K-State In Italy Education Abroad Session: 3:30-4:30 p.m. Wednesday, Nov. 7, in 112 Leadership Studies Building. Attend this overview of the K-State student experience to the inspirational city of Orvieto. Meet the students who have traveled to Orvieto as well as K-State in Italy office staff Serena Croce and Graziella Gasparri who arrived from Italy this weekend to share the Orvieto experience with our campus community.
The K-State in Italy Office was established in Orvieto in 2016 to assist the campus community in conducting education abroad opportunities in Italy.
• "Chinese Houses: The Architectural Heritage of a Nation," 7 p.m. Thursday, Nov. 8, in the K-State Student Union Bluemont Room. The K-State Confucius Institute presents its second "Understanding China" lecture featuring SUNY distinguished professor emeritus Ronald Knapp.
"This is a great opportunity to learn about Chinese culture in general and Chinese architecture specifically. The speaker, Professor Ron Knapp is an authority on traditional Chinese houses and vernacular architecture and I am excited that he is on our campus," said Max Lu, director of the K-State Confucius Institute.
Knapp is the author, editor, or contributor to more than 20 books on China and Southeast Asia, including "China's Traditional Rural Architecture: A Cultural Geography of the Common House" (1986), the first book in English to introduce Chinese vernacular architecture to Western readers. Over the past decade, he has worked with the well-known photographer A. Chester Ong on a growing family of books published by Periplus/Tuttle that combine fine photography with authoritative texts.
"Chinese Houses: The Architectural Heritage of a Nation" (2005) features Knapp's "favorite" 20 old Chinese homes and won ForeWord Magazine's Book of the Year award in the Architecture Category. "Chinese Houses" and "House Home Family" were together awarded the Henry Glassie Award of the Vernacular Architecture Forum in 2008.
• International Coffee Hour featuring Jamaica: 4 p.m. Friday, Nov. 9, at the International Student Center. Learn about Jamaican customs and make new friends. Have coffee, tea and cultural treats and learn from our Jamaican students who chose to attend Kansas State University.
Coffee Hour allows K-State's international students an opportunity to present their country and culture in a colorful slideshow to others in an open and relaxed setting and share their thoughts and feelings on a variety of topics and issues concerning their country's culture, history and politics.
Food and refreshments that represent the essence of the student's home country are prepared by the student presenter and served following the presentation.
• International Food Festival: 5:30-8:15 p.m. Sunday, Nov. 11, at the Frith Community Center at Jardine Apartments. Presented by the K-State International Coordinating Council, students have the opportunity to represent their country by making a variety of authentic dishes — appetizers, main dishes, desserts and drinks. The entire K-State family and the Manhattan community are invited to share in this feast and learn more about the cuisine of the international countries represented. There are two different sign-up times to enjoy this unique festival. For tickets and more information contact Dhruthi Singamsetty at dhruthis@k-state.edu.
For more information about International Education Week activities, contact Mary K. Pyle at mkpyle@k-state.edu.