November 7, 2018
Lynn Ewanow to be honored as 2018 International Educator of the Year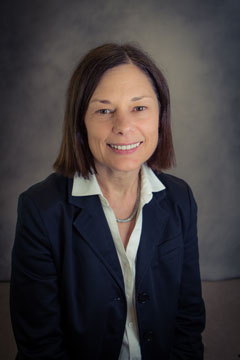 Lynn Ewanow, associate professor and associate dean, director of environmental design studies program and director of international programs in the College of Architecture, Planning & Design, will be honored as the 2018 International Educator of the Year.
Presented by the Office of International Programs, the International Educator of the Year award annually honors an individual's sustained commitment to advancing international education at K-State.
"Lynn has served as the spearhead of our international study abroad opportunities for our students," said Tim de Noble, professor and dean of the College of Architecture, Planning and Design.
"I was asked to direct the APDesign Italian Studies Program in the fall of 2002," Ewanow said. "My first visit to Orvieto was in January 2005. I went with the intention of exploring the possibility of establishing and furthering the APDesign Italian Studies Program in a second location in Italy."
Since the inception of the APDesign Italian studies program in 1991, APDesign has sent more than 1,000 students to Italy for a semesterlong academic program and 431 students have studied in Orvieto.
"In over 10 years of collaboration I have directly experienced Lynn's passion and enthusiasm in communicating the importance of international education and creating thriving learning communities," said Serena Croce, Orvieto program director, K-State Italy.
"What an exciting honor for Lynn to be nominated by her colleagues. Lynn has an outstanding contribution to K-State internationalization plan and her award is well deserved," said Marcellus Caldas, assistant provost of international faculty collaboration and educational programs for the Office of International Programs.
"Her leadership in elevating the relationship with The Centro Studdi in Orvieto has led to this region becoming our university's No. 1 travel destination for Education Abroad and faculty-led programs," said Grant Chapman, associate provost for international programs.
"The overarching intention of Kansas State University in Italy is to build the foundation for our students to become globally competent citizens who are interested in, and capable of, thinking about and working toward greater international cooperation and collaboration," Ewanow said. "I am very excited that Kansas State University took the necessary steps in 2015 to establish a legally recognized international presence in Italy in 2016. This office provides an amazing opportunity for our students and faculty, not just in APDesign, but from across the campus to engage with a vibrant community."
Ewanow received her master's degree in landscape architecture from the State University of New York College of Environmental Design and a Bachelor of Psychology and a Bachelor of Arts from Keuka College. Ewanow also completed the management development program at Harvard University.
As associate dean, Ewanow is responsible for student academic services, the environmental design studies program which is the first year of the five-year master's program for architecture, interior architecture and product design, landscape architecture, and regional community planning and all aspects of the college's Italian studies program as well as other international programs. She has also served as special assistant to the university provost. Ewanow was elected to the national Landscape Architecture Accreditation Board in 2017 and serves as one of three educators on the twelve-member board. Beginning in the spring of 2019 she will serve as the board's secretary.
Join Ewanow as she is recognized at the 2018 International Education Awards Ceremony and reception at 4:30 p.m. Thursday, Nov. 15, in the Regnier Forum and atrium.
"This ceremony offers the community the chance to celebrate and thank her for what she has done for the internationalization of our university," Chapman said.