November 2, 2018
Business students' study abroad experiences explored in new published study
Submitted by Brent Fritzemeier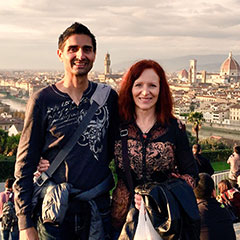 The rise of globalization and increased consumer mobility across nations has made it imperative for higher education institutions to focus on educational offerings that emphasize global perspectives — including an understanding of different cultures, the global economy and the interdependence of nations. One way to expose students to such perspectives is through opportunities such as study abroad programs.
But what motivates students to participate in these programs and what can they expect to learn that isn't possible in a normal classroom setting? Swinder Janda and Bente Janda dive into these questions in a forthcoming paper in the Journal of International Business Education. Swinder is a professor of marketing and the Robert M. Edgerley chair in global business and Bente is assistant dean for student services, both in the College of Business Administration at Kansas State University.
Even though there is some prior research that identifies student motivations, concerns and outcomes associated with studying abroad, much of it is quantitative in nature. The Jandas' study, titled "A Phenomenological Investigation of Business Students' Study Abroad Experiences," utilizes phenomenological techniques to uncover major motivations and concerns of students who study abroad. Their work delves into key psychological and behavioral outcomes of participating in study abroad programs, and as such, it attempts to add deeper insights by focusing on a depth understanding of these concepts.
"Personal motivations for studying abroad center on students' desire for personal growth and self-reflection, and a way to broaden their horizons via an international travel experience," Swinder said. "Our research found key institutional constituents like advising staff and faculty members play a central role in students' desire to study abroad. We also found key psychological outcomes of study abroad, including greater open mindedness and world mindedness, greater empathy, and enhanced sense of self-confidence."
As part of the research, the Jandas were able to draw on their deep experience in creating and leading study abroad programs in the College of Business Administration. In their time at K-State, Swinder and Bente have combined to create and lead 25 study abroad trips, taking a total of more than 600 K-State students to a variety of countries across Europe, South America and Asia.
"The idea for this research came about from working with students on our faculty-led study abroad trips," Bente said. "We wanted to learn from a student's perspective what the key motivations and challenges are when it comes to study abroad participation and hopefully provide insights that can be used widely by professors designing meaningful study abroad experiences for students."