November 2, 2018
Anthropology faculty and students present at Plains Anthropological Conference
Submitted by Lauren Ritterbush and Jakob Hanschu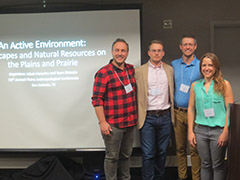 K-State was well-represented at the 2018 Plains Anthropological Conference Oct. 24-27 in San Antonio. Four faculty and three students presented research at the conference.
Brad Logan, research associate professor, presented "Quixote Feasts: Woodland Period Burned Rock Features in the Kansas City Locality."
Lauren W. Ritterbush, professor, co-authored a presentation with Jim Ralston, non-degree seeking student, titled "Search for the Kanza Indian Eastern Treaty Community."
Kaylee Kerns, senior in anthropology, and Jakob Hanschu, senior in anthropology and geography, co-authored a poster, "Assessing Public Perceptions of Archaeology in Kansas."
Ryan Klataske, instructor of anthropology, and Hanschu co-organized an interdisciplinary symposium, "An Active Environment: Landscapes and Natural Resources on the Plains and Prairie."
Participants in this symposium included professionals with K-State ties including the following:
Hanschu, "Agencies, Assemblages, and Applications: Theorizing Agricultural Drainage in Iowa."
Amber Campbell, project manager/lead USDA-NIFA_CAP Great Plains Grazing Grant specialist and adjunct assistant professor of anthropology, "Climate Change and the Ecological Context of Beef Production in the Great Plains."
Klataske, "Conservation and Engaged Anthropology in the Great Plains."
Eric Skov, 2008 bachelor's graduate in anthropology; Kansas Historical Society, "Looking Up: Patterns of Site Distributions on Upland Landscapes in Northeastern Kansas."
Additionally, five other anthropology majors from K-State attended the conference, including Ashley Flowers, senior in anthropology and graduate student seeking a Professional Master of Technology; Abigail Graham, senior in anthropology; Angela Kay, senior in anthropology; Artemis King, senior in anthropology; and Haley Reinhard, senior in anthropology.