October 31, 2018
K-State to host Indian dairy processing interns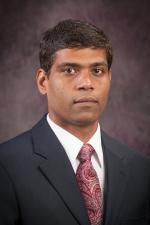 Jayendra Amamcharla, associate professor of food science in the K-State Food Science Institute, will host four nationally selected student interns pursuing their Bachelor of Technology degrees at the Indian Council of Agricultural Research-National Dairy Research Institute in Karnal (Haryana), India.
The four interns will spend six weeks on campus at the Food Science Institute and the animal sciences and industry department during the spring 2019 semester. They will participate in dairy-focused research projects led by Amamcharla and his colleagues.
The Indian Council of Agricultural Research is the premier educational institution of India catering to the human resource needs of the dairy industry. The institute was established in 1923 and its Bachelor of Technology in dairy technology flagship degree program was initiated in 1957.
To further strengthen this academic program, the council, under the National Agricultural Higher Education Project with financial assistance of World Bank and the Indian government, has approved an Institutional Development Plan focusing on undergraduate students studying dairy technology. The project enables students to study at renowned universities overseas to gain global exposure and enhance professional competence to ensure academic progression and employability in the global dairy industry.