October 16, 2018
K-State Libraries' Morse Department of Special Collections opens Bluemont Hall reading room
Submitted by Sarah McGreer Hoyt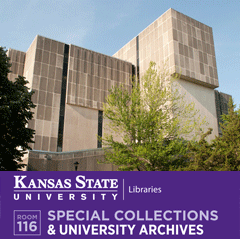 The Richard L. D. and Marjorie J. Morse Department of Special Collections was exceptionally fortunate that its research materials were not damaged significantly in the May 22 fire. The entirety of the collection has been moved offsite for cleaning and storage until it can return to Hale Library.
In the meantime, the department has opened a reading room in 116 Bluemont Hall. The space includes a limited amount of frequently used materials plus research tables and a scanner, with plans to add a microfilm reader in the near future.
University Archivist Cliff Hight said that items available for public use include subject clipping files, photo collection files, yearbooks, catalogs, recent budget books, campus directories, Manhattan directories and commencement programs.
In addition, a selection of digitized materials from the department's primary collecting areas is available online.
"We're looking forward to seeing students, faculty and the community engage with our collections again, even if it is on a much smaller scale," Hight said. "They'll be able to access materials especially relevant to university history, which is an area that attracts hundreds of visitors every year."
Visitors to the reading room also can request to view the St. John's Bible, and the St. John's Bible traveling outreach program remains active. The Libraries' trained docents are available to bring this work of art to organizations throughout the region for their communities to experience firsthand.
The public can visit the reading room from 10 a.m. to 5 p.m. Monday through Friday.
For more information, contact the special collections department at libsc@k-state.edu or 785-532-7456.