October 16, 2018
New video highlights relocated Hale Library services
Submitted by Sarah McGreer Hoyt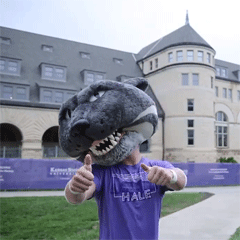 As the semester progresses and more students are tackling in-depth projects, the university is redoubling efforts to make sure everyone on campus has the research and IT assistance they need. To that end, the K-State Student Governing Association and Libraries Student Ambassadors teamed up to let fellow Wildcats know how to find relocated Hale Library services.
In a new video, Willie walks through the K-State Student Union to access printing, textbooks on reserve and equipment checkout. Research assistance and IT help also make an appearance.
Please consider sharing the video with students in class or by embedding the video in Canvas. Even though Hale Library is closed, people and services are still here to help. For additional questions about alternate study locations or other relocated services, contact K-State Libraries via Ask a Librarian or the librarian affiliated with your discipline.