September 12, 2018
Indigenous scholars, leaders convening at K-State for Indigenous Peoples Day conference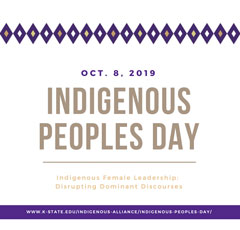 The 2018 Columbus Day Indigenous Peoples Day is promising to be the most powerful event since its inception. This year's theme, "Indigenous Female Leadership: Disrupting Dominant Discourses," has generated an exciting lineup of renowned scholars and also will feature a screening of the film "Warrior Women," which tells the story of mothers and daughters fighting for Indigenous rights in the 1970s American Indian Movement.
This event, which is free and open to the public, will take place from 9 a.m. to 4:30 p.m. Oct. 8 in the K-State Student Union. Please visit the website for the full schedule including keynote addresses, breakout sessions, registration and live stream information. Faculty who are planning to bring classes are asked to register as well. Meals are only provided for individuals who register for the full day conference.
Alex Red Corn, assistant professor of educational leadership, co-chair of the Indigenous Faculty and Staff Alliance and member of the Osage Nation of Oklahoma, said this event continues to grow and has been instrumental in bringing greater visibility to the perspectives of Indigenous people on the K-State campus.
"Too often, the original peoples of this land are pushed to the margins of mainstream learning, or our stories are trapped in an overly narrow stereotype that remains stuck in the past," Red Corn said. "This event provides us with an important platform that offers modern perspectives from Indigenous leaders in a more meaningful and productive manner."
Keynote addresses will be given by Elizabeth Kronk Warner, Robin Zape-Tah-Hol-Ah Minthorn and Maggie Walter in the K-State Union Ballroom. Breakout sessions will be led by Rep. Ponka-We Victors, Electa Hare-RedCorn, Kelsey Ducheneaux and Minthorn.
Kronk Warner, professor of law and associate dean of academic affairs, director of the Tribal Law and Government Center and affiliated professor of Indigenous studies at the University of Kansas, will deliver "Raping Indian Country" at 9:30 a.m. Kronk Warner is a member of the Sault Ste. Marie Tribe of Chippewa Indians.
Zape-Tah-Hol-Ah Minthorn, associate professor of educational leadership and Native American studies at the University of New Mexico, will present the talk "Indigenizing the Academy and Reclaiming the Space of our Ancestors" at 10:30 a.m. Minthorn is a member of the Kiowa Tribe of Oklahoma, Apache, Nez Perce, Umatilla and Assiniboine.
Walter, professor of sociology and pro vice-chancellor of Aboriginal research and leadership at the University of Tasmania and Oz to Oz visiting Fulbright Scholar, will deliver "Indigenous Data and Indigenous Data Sovereignty" at 2:30 p.m. Walter is a member of the Palawa, descending from the Pairrebenne people of North Eastern Tasmania and a member of the larger Briggs Johnson Tasmanian Aboriginal family.
Attendees will screen the film "Warrior Women" at 11:45 a.m., and breakout sessions will begin at 1:30 p.m. on a variety of topics.
Rep. Ponka-We Victors, elected to the Kansas House of Representatives in 2011 and member of the Tohono O'odham Nation of Arizona and Ponca tribe of Oklahoma, will speak about Native women's leadership. Electa Hare-RedCorn, a member of the Pawnee Nation of Oklahoma and Inhanktowan descendent and doctoral student at the University of Arkansas, and Kelsey Ducheneaux, a member of the Lakota Sioux and youth programs coordinator for the Intertribal Agricultural Council, will speak about Indigenous food sovereignty. Minthorn will conduct a breakout session on Indigenous research methodologies.
Indigenous Peoples Day began in 2016 and was created to raise awareness about American Indian perspectives regarding culture, current events, scholarship, history, law and policy, and other topics that shape perceptions about Native populations. This event is always hosted on Columbus Day, as a way to generate counternarratives around particular symbols of colonialism.