Children's classic 'Little Women' still relevant at 150, Alcott experts say
Wednesday, Sept. 12, 2018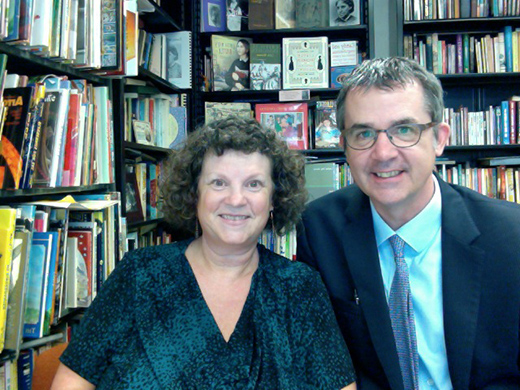 Kansas State University English professors Anne Phillips and Greg Eiselein are experts on author Louisa May Alcott and her classic book, "Little Women," which turns 150 during 2018-2019. | Download this photo.


MANHATTAN — At 150, Louisa May Alcott's classic book for girls, "Little Women," is not getting older — it just keeps getting better, according to two Kansas State University experts on the author and her most famous work.

Anne Phillips and Greg Eiselein, both professors of English, are co-editors of "The Louisa May Alcott Encyclopedia," released in 2001; "Norton Critical Edition of Alcott's Little Women," 2004; "Critical Insights: Little Women," 2015; and "Critical Insights: Louisa May Alcott," 2016. They also are teaching a course about Louisa May Alcott this fall, which examines the life and writings of the author.

The professors and the Kansas State University English department are marking the sesquicentennial of the novel during the 2018-2019 school year with a lecture series and other events, including hosting the yearlong blog, "Little Women 150," at https:/lw150.wordpress.com.

The first volume of the story of the March sisters — Meg, Jo, Beth and Amy — set during the Civil War, was released in September 1868, with the second volume, which focuses on the protagonists moving from home and family to other places and communities, released in April 1869.

Phillips first read "Little Women" in the fourth grade, using an edition of the book passed down from her mother and grandmothers. Eiselein discovered "Little Women" in graduate school.

"It's an astonishingly rich text, and Greg and I keep discovering new perspectives on it, often in conversation with students, fans and members of the general public," Phillips said.

From its initial publication, "Little Women" has been a success with readers young and old, female and male, domestic and international, Phillips said. But Alcott was reluctant at first to write a book for girls when asked to do so by an editor at a Boston publishing firm. Books for boys were doing well and the editor thought Alcott might have a lucrative niche writing for girls, Phillips said.

"Although she initially wasn't very excited about the prospect and took several months to get going on it, Alcott soon became much more enthusiastic about it, especially after she thought about it as a way to pay tribute to her sisters and family — and after the first draft of the novel was well received by her friends," Phillips said.

"'Little Women' is the quintessential coming-of-age novel, so it remains relevant, especially as it considers human ambitions, aspirations, challenges and sacrifices," Phillips said. "In depicting not only the March sisters' coming of age but also their neighbor Theodore 'Laurie' Laurence's maturation process, Alcott provided an especially well-rounded and compelling perspective on maturation."

Eiselein said the novel appeals to a wide variety of people. One example, he said, is parents seeking advice on raising their children and teaching them how to negotiate life's challenges and trials.
"It's also a novel about nostalgia and loss, about realizing that growing up also means letting go of childhood and the special bonds you maintain with siblings and parents before adulthood," Eiselein said. "While many adolescents, like Jo in the book, have such awareness, reading 'Little Women'as an adult provides a different perspective on what it means to lose the relationships of youth."

Phillips credits the long-running popularity of "Little Women" with readers to Alcott's distinctive, whimsical voice and sense of humor. She also said that the book was drawn from Alcott's direct experience and infused with an American sensibility and language.

"Most importantly, Alcott showed realistic characters with realistic emotions," Phillips said. "They played, they squabbled, they behaved badly, they atoned, and they had each other's backs — most of the time. They were such a striking contrast to the other books for young women available in the mid-19th century, in which pious, weepy girls read their Bibles and stitched their samplers and pined for husbands."

"Little Women" inspired other writers and their works, Phillips and Eiselein said, including "Anne of Green Gables," "Ballet Shoes" and "The Penderwicks," as well as many works for adults by authors such as Barbara Kingsolver and others. "Little Women" has been made into several films, including one due out in late September that is set in modern day and one that starts filming soon with an all-star cast that includes Meryl Streep and Emma Watson. Alcott's novel also has been adapted for TV, the stage and even in rap, which was performed at a Kansas City festival this summer.

"More than any one adaptation, though, I am most impressed by how various versions of the story — the quartet of four very close but very different women whose lives intersect and then diverge and then come together again — seem to live on in new forms," Eiselein said. "I think of all the television shows, to use one example, that seem to use this story structure: 'The Facts of Life,' 'Designing Women,' 'Petticoat Junction,' 'Desperate Housewives,' 'Girls,' 'Sex and the City' and the 'Golden Girls' to name a few."

While Alcott likely never envisioned the long success of "Little Women," Eiselein said the author did express a reservation about one of the plot twists. Before the second volume was released, readers were demanding that Jo should marry Laurie, but Alcott chose what she called a "funny match" for Jo instead.

"Later, it seems, Alcott may have felt some regret about marrying off her protagonist at all," Eiselein said. "She told a friend in a letter that 'Jo should have remained a literary spinster.'"
Facts about Alcott from Phillips and Eiselein:

• Alcott was the first woman in Concord, Massachusetts, to cast a vote. The poet Ralph Waldo Emerson lent Alcott books to read and author Henry David Thoreau took her on nature walks. Alcott's father was perhaps the most important educational theorist of his time. Her mother was a social reform activist, committed in particular to helping the poor, ending slavery and establishing equal rights for women.

• One of Alcott's primary reasons for writing was to try to make enough money to support her family, which she finally did with the success of "Little Women." She worked as a nurse in a Union hospital during the Civil War.

• A single, illustrated volume of "Little Women" was first published in 1880 with numerous changes to the text that cleaned up the grammar and, in some cases, made alterations involving the characters' appearances and perspectives. Marmee, for instance, was originally stout and particularly valued for her close connections with her daughters. In the revision, she is described as "a noble looking woman."

• Before "Little Women," Alcott wrote dozens of anonymous thrillers — popular stories filled with passionate language and lurid settings and twisty plots that feature disguise, madness, revenge, lust, drugs, murder and more. She also wrote her own account of being the target of sexual harassment at work, almost 150 years before the #MeToo movement.

• "Little Women" has a long list of famous fans: Sandra Day O'Connor, Ruth Bader Ginsberg, Hillary Clinton, Teddy Roosevelt, Laura Bush, Simone de Beauvoir, Gloria Steinem, Gertrude Stein, Ann Petry, Ursula LeGuin, Cynthia Ozick, J.K. Rowling and Patti Smith, among many others.