September 10, 2018
Visiting scholar presents about unsung hero with Kansas ties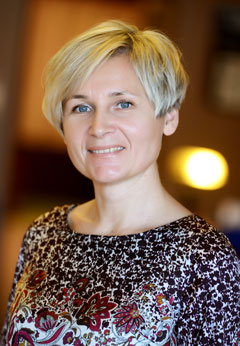 A visiting scholar from Poland will present about Irena Sendler, a Polish Catholic woman who saved the lives of thousands of children during the Holocaust, Tuesday, Sept. 11, at Meadowlark Hills.
Marzanna Pogorzelska is an assistant professor at the University of Opole in Poland and European director for the Lowell Milken Center for Unsung Heroes Project, which is headquartered in Fort Scott. Pogorzelska will present at 3 p.m. Tuesday, Sept. 11, in the Community Room at Meadowlark Hills. The public is invited to attend this free event.
Sendler's story may have been lost to history had it not been for a teacher in southwest Kansas and four precocious high school students. They share their story in this documentary produced by the K-State College of Education.
Sendler rescued thousands of babies and young children from the Warsaw Ghetto during the Holocaust, and the play "Life in a Jar" was written by this group of Kansas high school students that revealed Sendler's heroic efforts. Their creative history storytelling project was the catalyst for the founding of the Unsung Heroes Project and ultimately led to Senlder's nomination for the Nobel Peace Prize.
Pogorzelska is a visiting scholar through the European Union ERASMUS+ programme and will be hosted by the K-State College of Education. Pogorzelska's presentation is available to the public through a collaboration with the College of Education, UFM Community Learning Center and Meadowlark Hills.