September 7, 2018
Carlson named to national Kappa Omicron Nu board of directors
Submitted by College of Human Ecology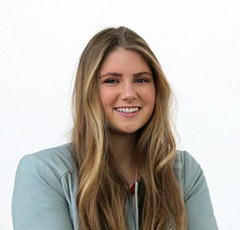 Brynn Carlson, sophomore in dietetics, Woodbury, Minnesota, was named to the Kappa Omicron Nu national board of directors as a student member for a two-year term beginning this year.
Kappa Omicron Nu is the leading honor society for students in the human sciences. The mission of the honor society is to empower leaders who use an integrative approach to enhance the quality of living through excellence in scholarship, leadership and research. Kappa Omicron Nu values recognition, reward, advancement and strong affiliation networks.
Carlson has chosen to study dietetics because of her love for serving others and her desire to assist people in becoming the best versions of themselves.
"As a volleyball student-athlete at K-State, I have a plethora of personal experience working with nutrition and performance and I want to be able to expand on that knowledge and bring it to others," she said. "Kappa Omicron Nu is an organization that is committed to serving its students through access to a variety of scholarships and internships, as well as vast networking opportunities. I desire to make an impact on Kappa Omicron Nu because I think it is an important organization that gives valuable opportunities to students, and as a voting member, I would be giving a voice to the students within the leadership of Kappa Omicron Nu."
Following her time at K-State, Carlson will pursue a career as a sports dietitian so that she can work with athletes and help them maximize their potential.