September 4, 2018
Volunteers needed for Wildcats Run for Wellness 5K Sept. 22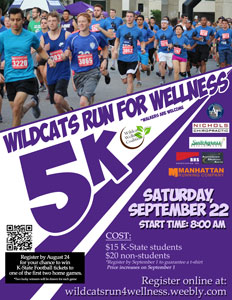 The Wildcat Wellness Coalition is hosting its fifth annual Wildcats Run for Wellness 5k on Saturday, Sept. 22 at 8 a.m. The race will start and end at Chester E. Peters Recreation Complex.
Volunteers are needed to guide participants along the race route. Each volunteer will receive a free race T-shirt and will be treated to donuts and coffee the morning of the event. Volunteers should plan to arrive at the Rec Complex at 7 a.m. for breakfast, followed by a volunteer meeting at 7:15 a.m. The event should end by 9:30 a.m.
If you are interested in volunteering for the Wildcats Run for Wellness 5k, please email Megan Katt at megan34@k-state.edu and provide name(s), email and T-shirt size. If you are interested in participating in the 5k, you may register on the race website.