Kansas State University and Schlumberger sign three-year agreement valued at $54 million
Tuesday, Sept. 4, 2018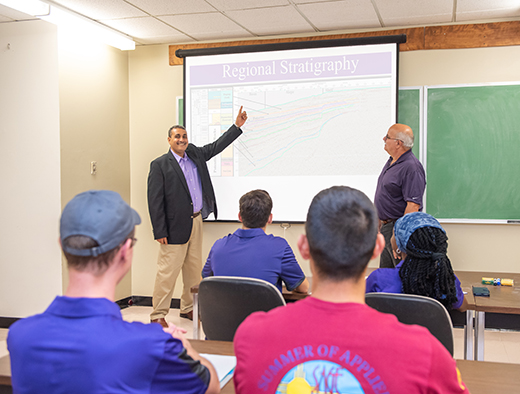 Abdelmoneam Raef, left, and Matt Totten, associate professors of geology at Kansas State University, will use Schlumberger software modules in research and teaching to address petroleum production problems in Kansas. | Download this photo.


MANHATTAN — Imagine viewing the Earth 300 million years in the past. Today, that observation would put you 2 miles under the surface of the planet.

Thanks to an agreement with Schlumberger — a worldwide provider of technology for reservoir characterization, drilling, production, and processing to the oil and gas industry — Kansas State University researchers in the geology department now have access to a suite of powerful tools to help them delve deeply into the past, when petroleum reserves were formed. The three-year agreement is valued at $18 million per year and provides the university access to the Petrel* E&P software and Techlog* wellbore software platforms; PetroMod* petroleum systems modeling software; and GeoX exploration risk, resource and value assessment software.

Matt Totten and Abdelmoneam Raef, associate professors of geology, said these tools will help the university address petroleum production problems in Kansas.

"Kansas has produced petroleum for a long time," Totten said. "We're still No. 8 in the country. But there have never been adequate models to describe the system — the environment in which the rocks, or reservoirs, were formed, how they were buried and the rate at which they were buried, and all of this influences production." Totten said.

According to Raef, more sophisticated information gathering and data integration are particularly important in Kansas, where many petroleum operators are small and don't have access to the technology

"We can offer cost savings and solutions to industry partners," Raef said. "We are working to develop our research in adopting advanced machine learning to better integrate oil and gas data."

Pamela Kempton, head of the geology department in the College of Arts and Sciences, said the partnership will not only benefit research and teaching at Kansas State University but also produce valuable information for Schlumberger.

"Our graduate students will benefit from the experience of using advanced tools, which will help them in the job market," Kempton said. "Our researchers also will provide feedback on the performance of the tools and offer ideas for improvements."

"This agreement highlights the outstanding work of the faculty and geology department," said Amit Chakrabarti, dean of the College of Arts and Sciences. "This group has achieved much, and with further investment in modernized facilities, it is poised to achieve a leadership position in teaching and research excellence."

Peter Dorhout, Kansas State University vice president for research, said the Schlumberger agreement demonstrates the high quality of the petroleum research program and the university's industry-friendly processes.

"Working with industry is key to the economic success of Kansas, and our team has realized an 80 percent increase in the number of industry-funded projects in the last six years," Dorhout said. "We're proud to add Schlumberger to our growing list of industry technology partners."

Totten and Raef said looking to the Earth's past brings a bright future for the Kansas oil and gas industry. Based on the Schlumberger agreement, they have already spoken to five companies that are interested in working with the geology department by providing data or supporting graduate students. They also foresee more efficient drilling with a smaller environmental footprint.

"With these tools, we can improve production significantly with less of a surface footprint," Raef said. "We can drill at one site instead of 10 or 15 drilling sites."