August 17, 2012
Setting the foundation: Fountain wars team finishes second at international competition, builds young leadership
Submitted by Communications & Marketing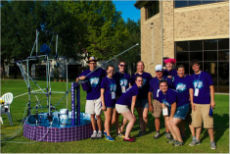 The Kansas State University fountain wars competition team has traditionally finished high in yearly competition at the American Society of Agricultural and Biological Engineers annual international meeting. The team's latest effort was no exception, with a second-place finish at the recent meeting in Dallas.
But 2012 was a little different for the Kansas State University team. Younger team members attended the meeting and participated in the competition for the first time.
"We've always had freshmen and sophomores, but this is the first time we've actually taken them to the meeting," said Philip Barnes, team adviser and associate professor of biological and agricultural engineering. "These kids were excited."
Barnes thinks the experience will be beneficial for the leadership presence on next year's team.
"They'll already have the experience next year," Barnes said. "They'll be leaders of this team. I'm kind of excited about it."
Fountain wars is a hands-on, real-time design competition where students design and model a fountain to complete technical tasks. The model is then built and tested under time limits at the competition, and a written report and oral presentation must be provided. The design also must be aesthetically pleasing.
This year the technical tasks were themed around the host city of Dallas. The first task, Cow Catching, consisted of lassoing a longhorn model and retrieving it. The model was positioned outside the team's pool and the team's fountain design had to place a lasso around the head of the model and pull it the designated distance. Points were accumulated based on number of times the cow was retrieved. The second task, Raising the Flags, consisted of raising flags up a flagpole by filling a bucket with water. Points were accumulated based on the time it takes to raise the flag and for each foot of downward movement of the bucket. All tasks had to be completed by use of hydraulic power.
The College of Engineering, department of biological and agricultural engineering, several irrigation companies and the university's Student Governing Association helped fund the team's trip.
"Student government is very good to help these kids attend the meeting and participate," Barnes said. "I really appreciate that help."
Team members also did individual fundraising.
K-State's finished behind the University of Tennessee for second place in the competition. Oklahoma State University placed third.
Team members, all majoring in biological systems engineering unless otherwise noted, include:
Jessica Barnett, co-president and senior, Belleville; Kevin Garman, junior, Burr Oak; Lorinda Bejot Mollenkamp, senior, Dodge City; Breanna Stout, master's student, Garden City; Kayla Wehkamp, sophomore, Ingalls;
From Greater Kansas City: Brenton Ware, master's student, Mission; Chloe Boudreaux, sophomore, Olathe; and Grant Brady, junior, Shawnee.
DeeAnn Turpin, senior, Leavenworth; Kathryn Douglass, sophomore, Manhattan; and Christopher Shultz, sophomore, Wakarusa.
From out of state: Erin Ogle, co-president and senior, Greenfield, Mo.
Barnes says helping with the competition is enjoyable for him.
"To see the unique ways kids put pumps and valves and electronics together; it's very fun for me," he said. "It makes my job easy."