August 28, 2018
Kansas Science Communication Initiative introduces workshop series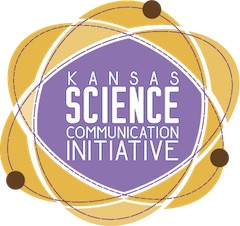 Interest in science communication is growing, so the Kansas Science Communication Initiative, or KSCI, sent out a survey earlier this year to identify topics of interest. This fall, the initiativeI will be offering workshops based on the feedback we collected.
Fall 2018 KSCI Works opportunities are as follows.
Please register soon — space is limited! Faculty, postdocs, graduate students, undergraduate students and staff are all welcome, as are individuals outside the university. Attendees are welcome to bring a brown bag lunch.
Please note that the Nov. 5 workshop will be led by Jory Weintraub, science communication director with the Duke Initiative for Science & Society and a senior lecturing fellow at Duke University. Weintraub's visit is part of Science Communication Week, which will be Nov. 5-10. He will offer an additional workshop to provide strategies and approaches to communicating your work to diverse audiences and compelling them to care. Look for separate registration for that opportunity soon!
Find more information about KSCI or view the KSCI events calendar.
Questions? Email ksscicomm@k-state.edu or find KSCI on Facebook or Twitter.