August 29, 2018
JMC and English students' radio program airs on national radio program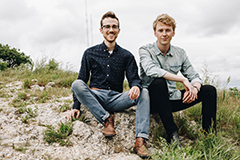 Two student workers from KSDB 91.9, K-State's student-run radio station, James Copeland, a graduate student in mass communications, and Zach St. Clair, a junior in English, produced "Asbestos Falls," a serial radio drama program.
The program was produced as a summer serial and aired on a program called "Sterling on Sunday," which is carried live on more than 50 radio stations around the country, including WLS in Chicago and four other 50,000-watt stations. The story is told through a fictional station called KEXT and details the strange happenings in the town of Asbestos Falls.
The students used KSDB's McCain Auditorium studios to produce the program and were interviewed live on Aug. 18 using a cutting-edge remote broadcast platform called QGoLive. KSDB 91.9 is a nonprofit, student-run radio station serving Kansas State University and the city of Manhattan. It provides original and diverse programming that aims to educate and entertain its listeners, and students are provided with the unique opportunity to learn professional broadcasting skills in an engaging, hands-on environment.