August 23, 2018
College of Business to offer new certificate in the business of sports and entertainment
Submitted by Brent Fritzemeier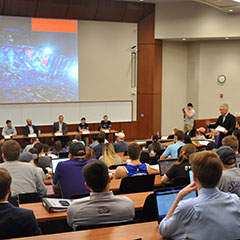 A new certificate program designed for students interested in a career in sports and entertainment is now being offered by Kansas State University.

The business of sports and entertainment certificate program will provide students with a deep understanding of the role of sports and entertainment in business, enhanced by a hands-on, real-time experiential learning opportunity.

"The business of sports and entertainment certificate will give students needed business skills for jobs in the sports and entertainment industries, but also in corporations where sports and entertainment decisions are made," said Doug Walker, associate professor of marketing. "Revenue generation in sports is critical — particularly beyond ticket sales and donations — at both the collegiate and professional levels. This certificate allows our students to develop marketing, economic, and management skills needed for a successful career in this environment."

Whether the economy is in a boom or bust, sports and entertainment venues thrive, giving event promotion an annualized growth rate of 5.1 percent (IBISWorld 2017). Revenue for sports and music events is expected to rise over 10 percent annually for the next five years from ticket sales alone (Statistica Digital Market Outlook 2017). Consumers are willing to splurge on events, and corporations, therefore, are willing to spend to promote these events through sponsorships. Business is involved in many ways — from the building of venues, operation of venues, sponsorship of events, product and brand management, as well as advertising and sales

The business of sports and entertainment certificate requires 15 credit hours for completion. It is made up of three required core courses — MKTG 360: Sports Marketing, MKTG 625: Entertainment Marketing, and ECON 524: Sports Economics — and the choice of two elective courses — from MANGT 630: Sports Management, MKTG 495: Marketing Internship, MKTG 542: Fundamentals of Professional Selling, or HM 463: Business Event Coordination.

"Students who complete this program will be able to apply quantitative reasoning to strategic decisions, form and execute marketing strategies, and apply management concepts to current trends in the industry," Walker said. "The multi-discipline nature of the certificate will really allow students to distinguish themselves on the job market."
To learn more about the program, talk to your academic advisor, or contact Walker at dmwalker@k-state.edu or Jan Crow at jcrow@k-state.edu.