Personal financial planning student from Topeka receives TD Ameritrade scholarship

Thursday, Aug. 23, 2018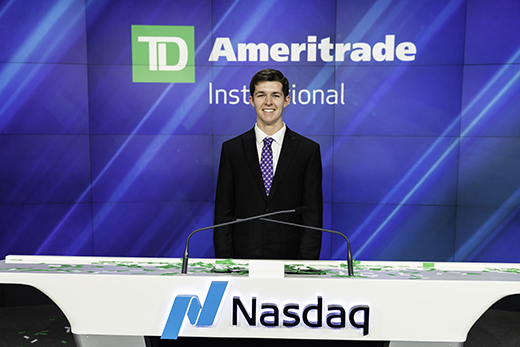 Kansas State University's Thomas Meek, junior in personal financial planning, at the closing bell ceremony for Nasdaq in New York. Meek is one of 12 national recipients of the $5,000 NextGen RIA Scholarship from TD Ameritrade. | Download this photo.


MANHATTAN — For the third year in a row, a Kansas State University personal financial planning student has received one of the 12 NextGen RIA Scholarships from TD Ameritrade.

This year's recipient is Thomas Meek, junior from Topeka. The NextGen RIA, or Registered Investment Advisors, Scholarship is valued at $5,000 and is awarded to students pursuing a bachelor's degree in personal financial planning.

The 12 winners were invited to spend a day in New York touring the financial district and visiting the Nasdaq MarketSite in Times Square, where the scholarship winners helped ring the closing bell.

"I am so thankful for the opportunity that TD Ameritrade Institutional gave me and it just shows how outstanding our personal financial planning program and faculty are at K-State," Meek said. "I really enjoyed connecting with other winners from around the country and meeting professionals from the financial planning field. The highlight of the trip was definitely being part of the Nasdaq closing bell ceremony."

Martin Seay, director of the personal financial planning program, said that having a personal financial planning student win this scholarship four out of the last five years speaks to the quality and national competitiveness of the program's students and graduates.

"We are proud of Thomas and his recognition as a TD Ameritrade 2018 NextGen RIA Scholarship winner," Seay said. "Thomas is a leader in our program, serving as the vice president of the Student Financial Planning Association, and represents the best that K-State has to offer."

Meek is a 2016 graduate of Washburn Rural High School, Topeka.