August 23, 2018
Cultures coming together at International Block Party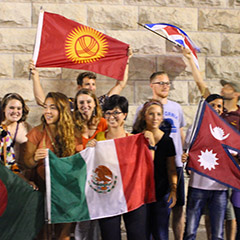 Many of the cultures represented in the Kansas State University family will come together for a fun-filled evening at the International Block Party. Join the festivities from 7-11 p.m. Friday, Aug. 24, on Bosco Student Plaza, with cultural booths open from 7-9 p.m.
The event will include a DJ playing music from around the world, henna tattoo artists, a novelty soccer game, miniature golf, a Cash Cube where you can win prizes, international student organization tables and international food samples. There also will be free Insomnia Cookies while supplies last. Take photos with flags from around the world, and get the chance to win more prizes by visiting the cultural booths from 7-9 p.m. Whether you grew up in Kansas or traveled from thousands of miles away, all students are invited to meet new people, learn about different cultures and have fun.
This free event is sponsored by the K-State Alumni Association, Union Program Council, International Coordinating Council, International Buddies, Commerce Bank, Student Governing Association, Insomnia Cookies and Pepsi. In case of inclement weather, the International Block Party will take place in the K-State Student Union Ballroom on the second floor.
For more information, visit kstateupc.com or call 785-532-6571.