August 17, 2018
Welcome back Wildcats: 2018 Week of Welcome offers events for new, returning students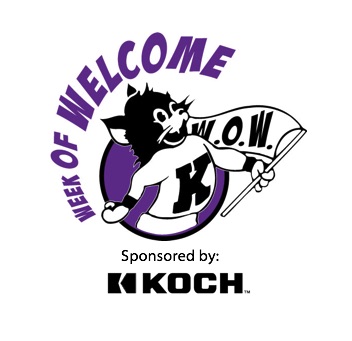 A variety of events will welcome new and returning students to the K-State campus during Week of Welcome.
The official Week of Welcome kick off is the New Student Convocation at 5:45 p.m. Sunday, Aug. 19, at Bramlage Coliseum. A tradition that dates back to the 1950s, Convocation is an opportunity to formally welcome first-year students to K-State. This year's program will include the first-ever charge delivered by a current undergraduate student, and addresses from 2018 K-State Alumni Association Distinguished Young Alumni award winners. Greg Eiselein, K-State First director, and the president and provost, also will address the audience.
A pep rally, free dinner and fun will follow the convocation at 7 p.m. at Bill Snyder Family Stadium sponsored by K-State Athletics and K-State Proud.
Make sure to check out the Week of Welcome badge on K-State 360. The first 50 students who complete the badge can pick up a free T-shirt at the K-State Student Union welcome desk. Students also can follow along on Twitter with #KStateWOW. Those who use the hashtag throughout the week will be put into a drawing for a K-State prize pack.
Other Week of Welcome events include:
Saturday, Aug. 18
Housing and Dining Services will host the official move-in day at the residence halls.
Walk Your Class Schedule will be from noon to 3 p.m. and will start on the first floor of the K-State Student Union.
The annual pancake feed will start at 10 p.m. at Memorial Stadium, sponsored by Housing and Dining Services. Enjoy a night of fun, games and pancakes.
Monday, Aug. 20
Student assistance booths will be set up across campus from 8 a.m. to 2 p.m. to help answer questions and provide directions. Stop by and pick up a free beverage or free Insomnia Cookies. A K-State Libraries staff person will be available to answer questions as well.
Come meet your librarian and get your questions answered between 11 a.m. and 1 p.m. on the first floor of the K-State Student Union. The event is sponsored by K-State Libraries
Tuesday, Aug. 21
Enjoy games, prizes and receive information about health and wellness organizations at K-State during Health-A-Palooza from 11 a.m. to 1 p.m. on the lawn right outside of the Leadership Studies Building. The event is sponsored by Wildcat Wellness Coalition.
UPC will host Mind Games: Throwback Edition, an interactive hypnotist program at 7 p.m. in the K-State Student Union Ballroom.
Wednesday, Aug. 22
Pet Away Stress featuring the Stress Relief Project will be from 11 a.m. to 1 p.m. at Waters Quad. Pet some dogs, make new friends and relax between classes. The event is sponsored by Counseling Services.
Join the Career Center for a cookout from 11 a.m. to 1:30 p.m. at the Berney Family Welcome Center north lawn. Enjoy a free lunch and meet your career advisor.
Learn more about the K-State Book Network book of the year at the Finish the Lyrics: Get Connected to "The Hate You Give" from 4:30-6 p.m. in the Derby Dining Center lobby.
Thursday, Aug. 23
The Part-Time Opportunities Fair will be from 10 a.m. to 3 p.m. in the K-State Student Union Ballroom. Visit with representatives and community employers hiring for part-time jobs, internship positions and volunteer opportunities. The fair is hosted by the Career Center.
Stop by the University Success Center to pick up a popsicle and learn about their services from 1-3 p.m. outside of Holton Hall.
Fall Activities Carnival will be from 6-8 p.m. in the K-State Student Union. Explore more than 175 student organizations and clubs and enjoy giveaways and more.
K-State Alumni Association will host its Wildcat Welcome Day from 6-8 p.m. at the K-State Alumni Center.
UPC will host an outdoor Film: "Avengers: Infinity War" at 8:15 p.m. on Bosco Student Plaza. Rain location will be in Forum Hall on the ground floor of the K-State Student Union.
Friday, Aug. 24
Join UPC for an International Block Party from 7-11 p.m. on Bosco Student Plaza. The event will include a DJ, games, prizes, henna artists and food samples. Rain location will be in the K-State Student Union courtyard.
For a full list of Week of Welcome events, visit wow.k-state.edu.