August 17, 2018
Postdoctoral Association and Graduate Student Council to host CV/Resume Workshop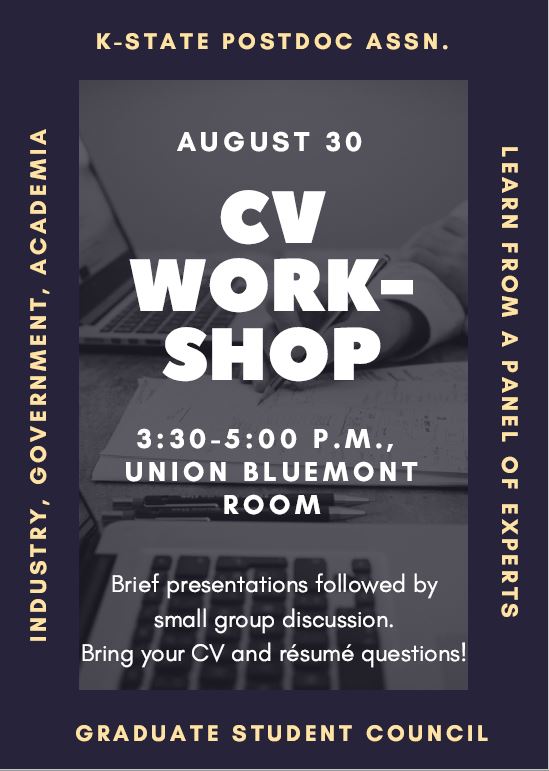 The K-State Postdoctoral Association and Graduate Student Council will host a joint CV/Resume Workshop from 3:30-5 p.m. Thursday, Aug. 30, in the Bluemont Room of the K-State Student Union. The event is for postdoctoral researchers/fellows and graduate students.
Different types of jobs require different types of resumes. Attend this workshop to hear brief presentations from K-State and outside experts on how to formulate successful resumes or CVs for industry, government and teaching/research positions, plus general formatting advice. After the presentations, participants will be able to join small group discussions to ask questions and get feedback on CVs and resumes, so be sure to bring your documents.
Advance registration for this event is requested.
K-State graduate students and postdocs who attend at least five professional development events hosted by the Graduate Student Council during the 2018-2019 academic year will be recognized with a GSC Professional Development Certificate. Only certain events count for credit toward the certificate. For each event you attend, you will be asked to complete an event feedback survey. You must complete the survey to earn credit for attending an event.
Students who complete certificate requirements will be invited to receive their certificate at the Annual GSC Awards and Recognition Reception; date, time and location to be determined.
The Graduate Student Council attempts to video record as many seminars as possible. Students who are unable to attend seminars in person may earn the GSC Professional Development certificate by viewing seminar video recordings and completing the seminar feedback survey.
Students also are invited to view archived videos from previous years. Viewing videos of seminars held in previous academic years will not count as credit toward requirements for the 2018-2019 Professional Development Certificate.