July 19, 2018
Casebeer named as endowed chair in construction science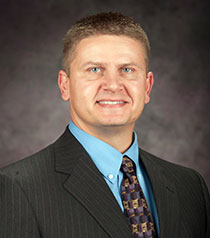 Shannon Casebeer, assistant professor in the GE Johnson Department of Architectural Engineering and Construction Science, has been appointed as the Jim and Carolyn Grier Construction Science Chair at Kansas State University.
Funded by a gift from Jim, a 1960 K-State graduate in civil engineering, and Carolyn Grier, Wichita, the endowment designates Casebeer as a "highly regarded K-State educator and researcher in the field of sustainability in building design and construction." As well as honoring the Griers on the campus of Kansas State University, the funds were also established to recruit and retain the highest quality faculty in the architectural engineering and construction science department in the College of Engineering.
Casebeer's current research involves exploration into the use of common recyclable household consumer waste plastics to create new construction materials. His projects to date have involved the concept of plastic masonry units, and their potential applications for load-bearing and non- load-bearing partitions.
He is the recipient of the 2017 Associated Schools of Construction Region 4 teaching award, as well as the Associated General Contractors of Kansas' 2016 Eugene Thorson Faculty Award and its 2015 Kansas Faculty Award. He also is a member of the American Society of Professional Estimators and the U.S. Green Building Council.