July 19, 2018
Architecture, Planning & Design students' furniture designs commercialized, win top awards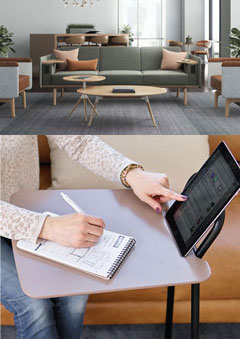 A 2017 collaboration between OFS and the College of Architecture, Planning & Design, or APDesign, has paid off for students and the university.
Two projects created in an interior architecture and product design course taught by associate professor Neal Hubbell have been brought to market by OFS. The final production of the students' designs were first showcased to the public in June 2018 at NeoCon — an international commercial design exhibition hosted in Chicago. Both projects took home major awards.
Roo and Lotiv, the furniture pieces developed by students, were designed during the course of two semesters in which they researched a void in the commercial furniture marketplace and created a design solution. They worked with the design team at OFS to develop their ideas further before becoming part of the company's product collection. OFS is a furniture manufacturer based in Huntingburg, Indiana.
The relationship between OFS and Kansas State University has been beneficial for both groups.
"We continue to be impressed by the expert research, design process and raw creativity that the interior architecture and product design students and faculty bring each new year of collaboration," said Doug Shapiro, regional vice president of OFS.
Roo, designed by recent Master of Interior Architecture and Product Design graduates Chelsea Flickinger and Garrett Steinlage, is an occasional table with a contemporary and modern aesthetic. It was awarded the Best of NeoCon Silver Award and a 2018 honorable mention HiP Award in the workplace: side table category.
APDesign also was represented by Lotiv, an easy-to-use pull up table designed by recent Master of Interior Architecture and Product Design graduates Katherine Arndt and Christopher Garcia. It was developed to be a flexible and convenient workspace that is easily adaptable for any work setting. Lotiv was selected as winner in the workplace: side table category for the HiP awards.
HiP awards are given by Interior Design, a design publication and website that focuses on interior design and architecture, during NeoCon. These awards are distributed to innovative designers and products in the commercial design industry.
Students' furniture pieces were shown among the commercial design industry's major manufacturers and designers at NeoCon. In addition to the notoriety of winning awards among leading designers, students and the interior architecture and product design department will receive royalties from Roo and Lotiv as they are sold by OFS.
The department continues to support this collaboration with new students participating each year in the production for the contract market class that partners with OFS.
"This collaboration combines a company that believes in bringing great design to the market place and talented faculty and students together to produce extraordinary work," said Nathan Howe, department head of interior architecture & product design. "There is no better combination, and I am excited to see what this partnership produces in the future."