Kansas State University launches new graduate degree in data analytics
Thursday, July 19, 2018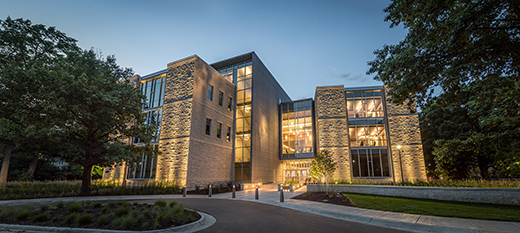 The rapidly growing interdisciplinary field of data analytics is behind the newest master's degree being offered by Kansas State University's College of Business Administration. The Master of Science in data analytics launches in fall 2018. | Download this photo.


MANHATTAN — In an effort to meet demand in one of the fastest growing job markets in the world, the College of Business Administration is launching a Master of Science in data analytics in fall 2018.

Data analytics is a rapidly growing interdisciplinary field that involves collecting, processing and analyzing large data sets. Analysts then effectively communicate research findings to key decision-makers who use the data to strategize changes or solve problems in their companies or institutions

Career prospects for professionals with advanced degrees in data analytics are excellent, as there are currently more job opportunities than graduates in this high-demand field. According to a recent report by IBM, demand will only continue to grow, with a predicted 28 percent increase in total jobs for U.S. data professionals by 2020.

"As many real-world problems are becoming more complex than before, data- and algorithm-driven decision-making emerges as an increasingly important approach in academia, industry and government," said Chwen Sheu, associate dean for academic programs in the College of Business Administration. "As a result, data analytics is becoming one of the most essential skills for professionals in social science, business, education and engineering."

To meet the demand for this high-growth area, the College of Business Administration has partnered with six departments from across campus — computer science, economics, geography, industrial manufacturing systems engineering, mathematics and statistics — to offer the first graduate program in the state of Kansas focused on data analytics. This unique degree program combines courses from various disciplines that cover both data science and applied analytics. Such an integrated curriculum offers students flexibility in choosing a track that fits their interests and background.

The program will foster community engagement through course projects, and seeks out research opportunities to provide evidence and data that can be shared with the state of Kansas. Students in the program will also have the opportunity to work directly with College of Business Administration faculty research projects in data analytics.

"All industries can benefit from employees with advanced data analytics skills," Sheu said. "We want to provide our students with the tools and knowledge they need to take their careers to new heights as leaders in their organizations."

In addition to introducing the new graduate degree in data analytics, the College of Business Administration recently has also upgraded its MBA curriculum by reducing the number of credit hours from 45 to 36, increasing student scholarship support, adding joint degree programs, and enhancing its collaboration with the business community.

For more information about the Master of Science in data analytics, including curriculum and tuition information is available at cba.k-state.edu/students/graduate/data-analytics/ or by contacting Lynn Waugh at lwaugh@k-state.edu.