June 22, 2018
Grain science professor emeritus honored with lifetime achievement award
Submitted by Communications and Marketing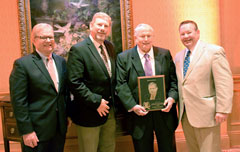 Fred Fairchild, professor emeritus of grain science and industry, was recently named the recipient of the American Feed Industry Association, AFIA, Kansas State University Lifetime Achievement Award for his contributions to the feed industry through feed education.
The award recognizes and honors U.S. animal food industry retirees, or those who are no longer serving the industry or allied industries, who have made a significant contribution to the animal food manufacturing business in the United States throughout their careers. The American Feed Industry Association and K-State first presented the award in 1995, and only 19 individuals have received the award to date.
"With more than 50 years of experience in the feed and grain industry and 24 years of involvement with AFIA and its committees, Fred Fairchild is more than deserving of this award," said Gary Huddleston, the association's director of feed manufacturing and regulatory affairs. "He contributed to three Feed Manufacturing Technology textbooks and was instrumental in making the partnership between AFIA and Kansas State University as strong as it is today."
Fairchild became a professor in K-State's grain science department in 1994, where he remained until his retirement in June 2013. From 1987-2011, Fairchild was involved in the association's Manufacturing and Technology, Hall of Fame, and Technology and Textbook committees, as well as the Centennial Task Force. He contributed multiple chapters to the Feed Manufacturing Technology III, IV and V textbooks, and he wrote more than 120 articles for the feed, grain and milling industries. He served as a project manager for four buildings of the K-State grain science campus, including the International Grains Program Conference Center, the Bioprocessing and Value Added Program Building, the Hal Ross Flour Mill and the O.H. Kruse Feed Technology Innovation Center. He also has written the Feed Operations feature for World Grain since 2011.