May 18, 2018
Wheat Genetics Resource Center Industry/University Cooperative Research Center awarded Excellence in Innovation and Economic Engagement honor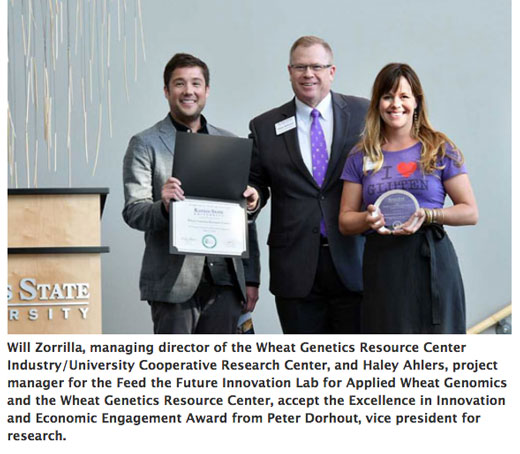 Kansas State University recognized the Wheat Genetics Resource Center Industry/University Cooperative Research Center with an Excellence in Innovation and Economic Engagement Award at the May 16 Research Showcase at the university's Olathe campus.
The award recognizes exemplary economic engagement in talent, innovation and place, plus the intersections of these categories. The honor was modeled on the Association for Public and Land-Grant Universities Innovation and Economic Prosperity University designation, which Kansas State achieved in July 2017. External reviewers chose the awardee from a pool of four finalists.
Peter Dorhout, vice president for research, said the award was designed to enhance recognition for economic engagement activities.
"The K-State Research Showcase brings our researchers together with prospective industry partners and helps us demonstrate the economic value K-State brings to our region in the form of innovation, so it's only fitting for us to pause and recognize an outstanding source of that innovation," Dorhout said.
"The Wheat Genetics Resource Center brings industry and university researchers and resources together to mobilize genetic diversity, enhance wheat yields and meet growing global food demand," he said.
External reviewers chose the center, known as WGRC, because of its significant industry partnerships, important enhancements of wheat genetics, and millions of dollars in research funding and related projects in the last five years. Notable achievements have included releasing germplasm that is resistant to Wheat Streak Mosaic Virus, which has caused $76.8 million in direct losses to Kansas wheat farmers in 2017 alone; a patentable technology to bring genetics from ancient ancestors into modern wheat; 55 publications; and nearly $10 million in research funding, including proprietary and infrastructure projects.
Will Zorrilla, managing director of the WGRC, was pleased to accept the honor on behalf of the center and his colleagues.
"This award is a testament to the talent and dedication of the WGRC research team. I would also like to recognize our industry partners for their extraordinary support, collaboration and vision over the years. We thank the National Science Foundation IUCRC program for working with us to develop the only one of these centers in the crop sciences," Zorrilla said.
"The center represents universities, seed companies, farmers, and milling and food manufacturers working together to address the needs of farmers and consumers. Together we are reaching back into wheat's ancestors to defend bread wheat against pests, weeds and adverse weather conditions while developing nutritional and functional ingredients for the dinner table," he said.
The WGRC will receive $1,000 grant from the Office of the Vice President for Research to continue to advance economic engagement efforts.