May 18, 2018
University up to challenges of new fiscal, academic years
Submitted by President Richard Myers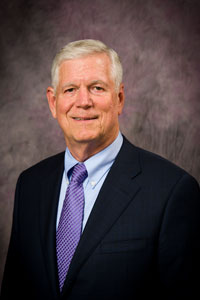 Dear faculty and staff,
What a wonderful graduation weekend! To shake thousands of hands and see our new graduates so eager to take on the world was inspiring. It reminds us of the valuable work we do every day. For the past three years, our university has graduated the largest classes in our 155-year history.
I want all (and by "all" I mean the entire K-State family) to take time to reflect on the tremendous accomplishment the prior statement represents. One of our core missions is to provide an educated citizenry. You do this exceptionally well. Those earning doctoral degrees, master's degrees, bachelor's degrees, and other certifications have been well served by our faculty and staff members.
The end of one academic and fiscal year marks the beginning of another, and we know there are significant challenges ahead for all of us. Last week, we announced a plan to stabilize our budget in the wake of recent enrollment declines. This challenge requires each of us to find new, more effective and efficient ways to serve our students and continue to deliver the great value that a degree from K-State carries.
The strategic enrollment management steering committee, supported by our Huron consulting partners, is developing recommendations on new ways to work together to attract more students to our great university and improve overall student success. Changing demographics and increasing competition mean we must strive to add even more value to our academic programs and degrees while meeting tomorrow's workforce and intellectual needs. We have no choice but to change how we do business. Our team is assembling a strategic enrollment management plan to do just that and we need your help to make it work.
This time of change also is marked by leadership transitions in several areas. We expect an announcement soon for a new dean at the college of veterinary medicine and an interim dean for our Polytechnic Campus. In the next few weeks, we will announce the process for replacing John Floros, our outgoing dean of agriculture and director of research and extension.
The search for a new provost has taken longer than we expected, but I am committed to getting the right leader for our university. The end of an academic year typically sees a lot of shifting among senior leaders and we are in the midst of that season. Strategic, long-term decisions often require patience and faith in the process.
As the collective future of our state, nation and world depends on a highly educated population, our future as a university depends on highly skilled and motivated faculty and staff. One of the core tenets of a land-grant mentality is the willingness to take on tough tasks and stay with it until the job is done. We have some big jobs ahead and I am confident we have the right people at our university to succeed.
A willingness to collaborate, an open mind to new ideas, and adaptability to change are critical at this juncture in K-State's history. I appreciate your support and passion for K-State. Together, we will move K-State forward and benefit generations to come.
Sincerely,
Richard B. Myers
President